Sound Rated Sliding Acoustic Doors
Does your project need large door openings to access equipment, yet still have high end sound rated performance?  eNoise Control soundproof sliding door solutions may be the answer. We supply for many applications including theaters, recording studios, movie sets, and industrial test facilities.  You may have the need to include our high-end acoustic sliding doors into your project to isolate disruptive external sounds. Schools, convention centers, and concert halls also benefit significantly from acoustic steel metal sound doors, while machinery enclosures and mechanical equipment rooms require high rated STC doors to help control noise which exceeds OSHA or pass/fail acoustic test noise limits.
Our custom fabricated sound rated horizontal sliding doors utilize high end seals to block out or contain disturbing noises, and are constructed from durable 12-gauge steel on interior and 16-gauge steel skin on exterior. Choose from a motorized or manual, single sliding or bi-parting steel constructed acoustical sliding door assembly with bottom seal at a minimum thickness of 5".
The door assembly incorporates an innovative design allowing the installation and re-adjustment of the seal system by means of a 6-way adjustable design (left – right, up – down, in – out). Removal of the door is not required to adjust the seals. Doors function utilizing a slide, drop and lock system whereas all seals are in compression, with no pneumatic seals necessary. This design provides pressure equilibrium and continuous seal at head, jambs and sill.
The heavy-duty track and trolley system utilizes two-way adjustable steel rollers with stainless steel ball bearings, accelerating smoothly on a sliding track in either the open or close state to a max velocity of six to eight inches per second, and decelerating smoothly to a stop at the completion of an operation. Sliding doors incorporate Linear Guide Rails and Guide Block System, Urethane Power Transmission Belt and gear drive system and will come equipped with an acoustical shroud over the guide belt system. 
Oversized doors utilize an electrical motor operation with variable speed operation and UL listed control panels. Custom sizes are available for interior or exterior use, and are furnished with two (one interior and one exterior) three-button operation interfaces, and a minimum of two motion sensors (one exterior and one exterior).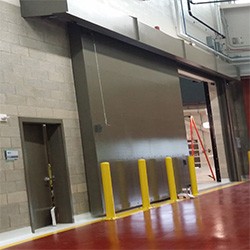 Industrial Sound-Rated Acoustical Doors
eNoise Control fabricates and provides sound rated acoustic doors for commercial and industrial applications. Sound Transmission Class (STC) of STC-50 up to STC-70 rated doors.
Features
Split Frame
Fully Assembled Doors
Single, double or triple seals
Cam-lift hinges
Guaranteed acoustic performance
Single, double, bi-fold and sliding
SCIF doors available
Wood veneer option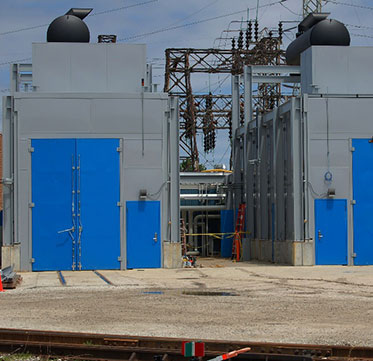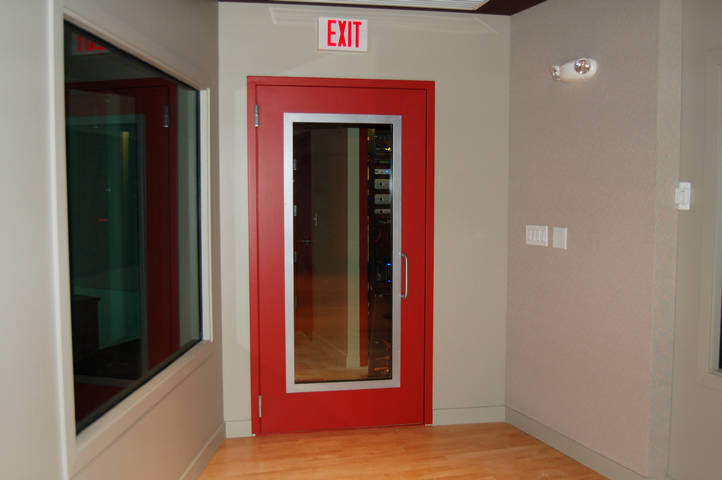 Our acoustic doors ship fully assembled, pre-hung and ready to install in the field. The split frame assembly allows ease of installation in the field. Provide your rough opening dimensions and an eNoise Control associate will be able to provide your quote.
Most common ratings for our acoustic doors are STC-50, STC-51, STC-55 thru STC-61, STC-64. Please advise your doors acoustic requirements. Click link to better understand STC rated doors.
Applications include a majority of commercial and industrial applications including: radio/music/television recording studios, music practice, engine test cells, industrial test rooms, pass/fail rooms, anechoic chambers and SCIF's.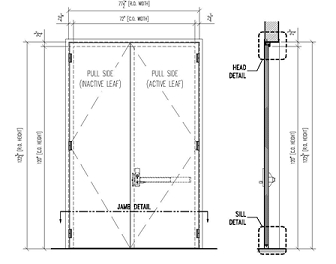 If you just want to retrofit an existing door with our door seal kit, please go here for more information: door seal kit
Our AutoCAD submittal shop drawings will include drawing, acoustic test data and simple to follow step by step installation instructions. eNoise Control does offer installation as an option.
Call us at 888.417.1903 or email us at info@eNoiseControl.com to discuss your sound rated door today!