Duct Lagging
eNoise Control's Acoustic Duct Lagging is a flexible sound reduction wrap for duct work and piping. This noise control product is often referred to as Duct Lagging or Pipe Lagging. Applications include: pipeline noise in chemical, petrochemical and waste-water treatment plants, HVAC duct work, and other industrial processes.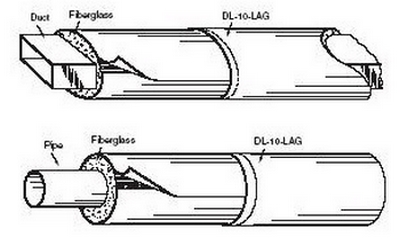 This loaded vinyl sound barrier product helps contain break-out noise from noisy ducts and pipes. Casing noise from the sheet metal duct can be lagged using our flexible barium sulfate loaded lagging material.
Model DL-10-LAG ships in roll form and can be easily cut and installed around most configurations of loud duct and pipe. The non-lead composition of the barrier material allows for safe handling and easy installation. When ordered with the aluminum foil facing a Class A fire rating can be obtained.
Flexible Duct Lagging wraps around pipes and duct work to reduce noise; simply cut to length and fasten with adhesive, tape, bands or mechanical fasteners.
About Piping and Ductwork Acoustical Lagging
Noise radiating from piping and ductwork can be a serious problem in modern building construction. Water and other liquids passing through pipe elbows, valves, and other transition pieces can cause turbulent flow piping noise. Air flowing past obstructions or branches in metal ductwork can cause duct noise. All of these factors can radiate noise vibrations into a building.
The simplest and one of the most effective ways to treat this type of noise is to wrap piping and ductwork with an acoustical cladding. Relevant local building and fire codes should always be referenced when choosing acoustical lagging products suitable for use within any occupied building space. Another important point to follow when working to reduce pipe noise and vibration in a building is to make sure that all piping and ductwork are supported from the deck above via vibration isolation hangers.
For your specific duct lagging application eNoise Control can recommend a solution and will provide expert advice on selecting an effective treatment to meet your noise reduction goals.