Silencers for Generator Room
Situation
Our client was a generator representative in the Caribbean. The client's customer owned a luxury resort that required a backup generator for their guests in case of a hurricane. The Genset Building is located in close proximity to the guest rooms. Due to the potential of long term operation and the frequent system tests, the resort required sound attenuation for both the inlet and discharge air openings of the building. eNoise Control was contacted for help with the generator room silencers.
Project Goals
Need for long-term silencing of both intake and discharge ventilation systems
Need for quick design, fabrication, and installation of silencers
(1) 35,000 CFM outside air intake silencer bank
(1) 35,000 CFM exhaust air discharge silencer bank
Solution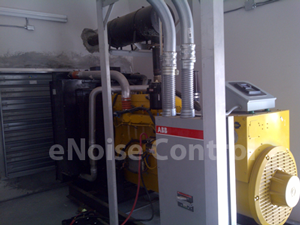 eNoise recommended straight, rectangular silencers for this project. The construction of our silencers is an 18 gage solid outer skin with a 22 gage perforated inner baffle skin. All materials for our industrial silencers are Type G90 galvanized steel. The acoustic grade fill is encapsulated in a Tedlar® erosion barrier, including an acoustic spacer.
The project consisted of two silencer banks, one for the intake and one for the discharge. Both banks were constructed of two 60″ W x 23″ H x 60″ L small silencers for a total area of 48″ H x 60″ W x 60″ L. After installing the silencer modules, the contractor used field applied angle flanges to band and connect the silencer banks to the building structure.
eNoise Control silencer performance is backed by independent tests in accordance with a NVLAP accredited laboratory, per ASTM E477 test standard and AMCA 1011 recognized test standard for testing the performance of duct and ventilation silencers.
eNoise Control has an unlimited capability in silencer sizing scheme. We make fit-the-duct or opening sizes to meet any project need. Contact eNoise Control for assistance with your generator room silencers.