Dust Collector Noise Control

Dust collection systems are designed with high powered blowers which create mechanical noise, exhaust noise, and casing radiating noise. eNoise Control analyses these three components of noise and advise our clients of the best engineering method for noise abatement on their dust collector system.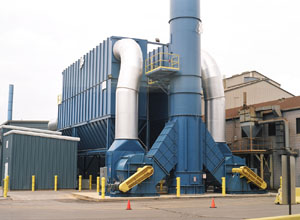 Solutions include fan or blower acoustic steel sound enclosures with removable panels for easy access and ventilation for the blower. Mufflers or exhaust silencers are also potentially used to muffle the sound coming from the exhaust stack or vent from the collector system. A third option for sound suppression is acoustic lagging or acoustic blanketing of the collector tower or cyclone. Our duct and pipe lagging can be used to suppress the vibration sound energy from the cyclone casing.
If your project is creating noise to the neighboring property line, eNoise can assist in acoustic consulting services. We can assist in the sound measurements, analysis of the disturbing noise, review sound ordinances, and help you meet your sound reduction goals.