Plastic Grinder Sound Enclosure
Users of plastic grinders and granulators have contacted eNoise Control to provide sound control enclosures, sound control cabinets, and sound control partitions for their noise abatement projects.  Noise is generated from re-grind, cutting blades, motors, collectors, and other accessories to the plastic grinder.  eNoise Control has engineered noise control enclosure and partition solutions.  Below is information on two options often used to enclosure plastic grinders.
Our sound curtain/sound blanket solution is a modular, flexible noise control option for your grinder noise control problem.  Sound blankets such as our Model UNC-13 can provide up to 25 decibel reduction.  Plant engineers, safety managers, and maintenance workers use eNoise Control to assist them in providing a sound curtain solution to their particular application.  Two-sided, three-sided, or full sound enclosures are popular solutions to lower unwanted grinder noise.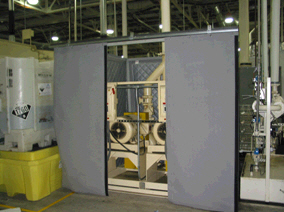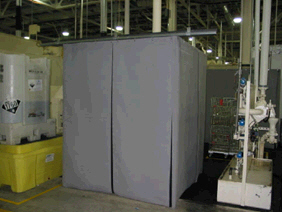 Features include:
Flexibility
Sliding panels
Floor or ceiling mounting options
Clear windows for viewing
Access hatches, strip doors, sliding panels for material feed
eNoise Control manufactures a high noise block with sound absorption qualities in our acoustic steel panel.  Our Model ERP-4 can lower noise levels up to 42 decibels.  Our customers have realized high noise attenuation from our durable steel enclosure system.
Features include:
High noise reduction
Flexibility of modular removable panels
Doors, windows, hatches for material feed
Ventilation, lighting, and access