Roof Top Unit RTU Sound Barrier – Case Study

Situation:
eNoise Control received a call from a Pharmaceutical Manufacturer in a large metropolitan area. City officials had visited their establishment several times and issued them a citation for breaking the city's noise ordinance. The problem began with purchase of a new Chiller unit as added in a recent expansion.
Solution:
eNoise Control proposed the installation of outdoor sound curtain barrier wall panels to be mounted on steel frames (by others). The outdoor sound curtains panels are 54″ wide and cut to length per the application. They have mating exterior grade velcro on the vertical seams of each panel that are joined together to form each wall. Grommets are installed across the top and bottom of each panel used for suspension. The panels are constructed of a 1lb. per square foot reinforced vinyl sound barrier bonded to a nominally 1 inch thick acoustical absorber faced with a silicone impregnated weather proof cloth. The composite sound curtain material has superior UV and heat resistance.
eNoise Control expedited the manufacture of the curtains and the solution was installed in time for the next Noise Review by the city.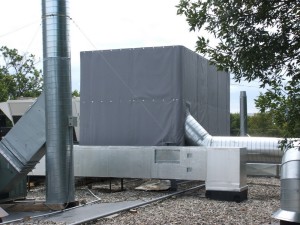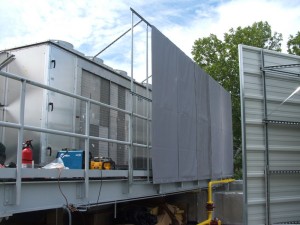 Customer Comments:
"We had the noise consultant from the City come today. She found that she can no longer isolate our building from the ambient! I thank you very, very much for your help. This was an issue that I thought we were in big trouble over and would probably not go away for awhile. Your help and expertise put us over the top on this one."
Roof Top and Exterior Sound Barriers
Trust eNoise Control to solve your outdoor noise remediation challenges.