Stamping Press Sound Enclosures
eNoise Control offers a proven engineered solution for stamping press noise. A steel sound enclosure constructed of removable acoustical panels, doors, windows and ventilation, custom designed and fabricated to meet your application and noise control requirements.
Sound reduction of 18 – 30+ dBA
Silenced passive or forced air ventilation available
Easy access to the equipment
Enclosure easily installed and moved with equipment
Class A (or 1) flammability rated per ASTM E84
Problem:
Single or multiple stamping presses running simultaneously bring sound levels to dangerous levels for prolonged worker exposure. Noisy plant not contusive to plant tours. Stamping press area causing entire plant to be on mandatory hearing protection.
Solution:
Sound enclosure(s)Sound enclosure(s) surrounding the stamping press. The sound enclosure will provide excellent accessibility for product and process, as well as, die change and maintenance. Superior noise control and worker safety being the goal in an eye pleasing sound enclosure that will add to the look of any facility.
Sample stamping press sound enclosure layouts are shown below.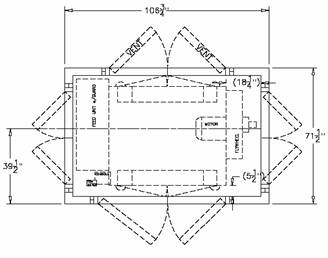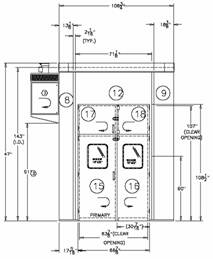 Sound Transmission Loss [ASTM E-90 & E 70]
OCTAVE BAND FREQUENCIES (Hz)
Product
125
250
500
1000
2000
4000
STC
4″
21
28
39
48
56
58
40
Sound Absorption Data [ASTM C 423 – 66]
OCTAVE BAND FREQUENCIES (Hz)
Product
125
250
500
1000
2000
4000
NRC
4″
.60
1.13
1.12
1.09
1.03
0.91
1.00
Acoustic Steel Sound Enclosure
Most common solutions for noisy stamping presses are a full acoustic steel sound enclosure.  Our system is a modular 4" thick "double wall sheet metal" system.  Our full acoustic sound enclosures have a perforated steel skin facing the noisy press and solid sheet steel on the outside, filled with acoustic mineral wool sound insulation.  This engineered sound enclosure envelope is ideal for sound absorption and sound blocking the action of the die from the press creating noise.  
Our system is modular and fully engineered with approval shop CAD drawings submitted before release to production.  We have supplied many industries and many press models (i.e. Minster, Bruderer, AIDA, etc.)
Call or email today your specific press model and accompanying photo.  One of our sales engineers will work up a quote and solution for your stamping press noise abatement project.