Acoustical Panels
Acoustical Panels wrapped in fabric are an aesthetically pleasing solution to your reverberant noise problems. Also known as acoustical panels or acoustic clouds, these panels are typically 1″ – 2″ thick with a square or contoured chemically hardened edge and wrapped with a fire retardant fabric. The panels are mechanically hung on walls or ceilings in patterns or groupings that add to the rooms' overall architecture.
Acoustical panels are commonly used in churches, schools, multi-purpose rooms, music rooms, auditoriums, and theaters to reduce the reverberation in large spaces and improve room acoustics for the ease of listening to speech and music.
Finishes
A variety of decorator fabrics are available. The standard is Guilford of Maine FR701 Style 2100. Other factory approved fabrics include Deepa Textiles, Design Tex, Wolf Gordon, Momentum and Knoll. Customer specified fabrics can be applied if it meets the manufacturing requirements.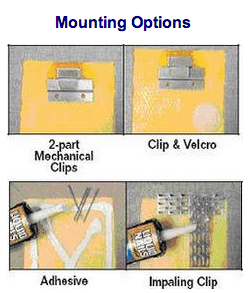 Acoustical NRC Rating
1/2″         0.50 – 0.60
1″              0.80 – 0.90
1-1/2″      0.90 – 1.00
2″             1.05 – 1.15
Fire Rating    
All components have a Class A/1 fire rating per ASTM E-84
 Edge Detail
Please contact us for more information.
Acoustical Panel Sizes and Colors
Fabric wrapped acoustical panels are available in a wide variety of sizes and shapes to fit your needs.  Acoustic wall panels can be manufactured and installed to blend in with and complement the colors and design of your space.  Wall panels are an effective an aesthetically pleasing solution to your noise control problems.
eNoise Control can provide the products specified by your acoustical consultant or designer. Read more about a new church project for which we supplied the architectural church wall panels.