Chiller Rooftop Sound Enclosure – Case Study

Air cooled chillers are efficient machines but notoriously loud and can be disruptive to neighbors. eNoise Control has worked on several projects to attenuate and remediate noise from air cooled screw chiller machines.
Situation:
This case history project involved a roof top Trane Chiller unit. The unit was installed on a roof to cool a large grocery store. The property line involved a neighboring condominium. The tenants of the condominium that faced the chiller were complaining about the sound from the roof top unit. Neighbor complaints stated such things as "not able to sleep", "disrupting noise at night", and "whining noise from the chiller".
Solution:
eNoise Control was hired to provide property line sound level readings, acoustic consulting, and generate a feasibility report on our findings for noise control remedies. Our conclusions were to provide a full steel sound enclosure with modular acoustical panels to help abate the noise from the chiller fans and chiller compressors. Airflow was a consideration. Installed into the enclosure were acoustic louvers and an overhead noise baffle system. This system allowed for aggressive noise reduction and still allowed the machine ventilation and heat release.
The project was successful in meeting our reports acoustic goals.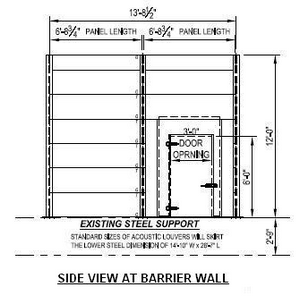 Sound Enclosure Rooftop Chiller Enclosure layout

Rooftop Chiller Enclosure elevation