Modular Acoustical Panels
Modular acoustical panels are pre-engineered metal panels that can be configured and assembled into a variety of structures. The panels control and reduce excessive noise levels in industrial, commercial, institutional, and community environments. They are particularly good for applications requiring a high degree of noise reduction and durability. Typical uses include enclosing or isolating noisy equipment or operations, personnel, and test and measurement chambers.
Modular Acoustical Panel Applications
The variety and type of noise control solutions are endless when combining the basic modular panel with our full range of components and accessories. Consider these applications:
Sound Enclosures for machinery such as blowers, generators, and presses
Quiet Rooms
Sound Booths
Control Rooms
Dynamometer Test Cells
Pulpits
Factory Offices
Pressurized HVAC Plenums
Thermal Spray Rooms
Design and Assembly Features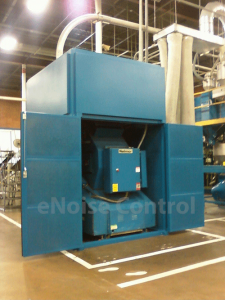 Fully interchangeable components provide the greatest degree of design flexibility. The basic panel assembly method uses our square edge panel and one-piece H-Channel joiner. This is suitable for most general applications and allows for very easy assembly.
For applications in which a sleek, flush join appearance is important, we offer a roll formed tongue-and-groove panel design. This provides for a very attractive enclosure or wall and is great for air and watertight pressurized plenum applications. The corners use flashings and connectors or arrive as one-piece corner panels.
Walls greater than 12′ feet are assembled by stacking multiple tiers of panel modules. With this option, nearly unlimited structure sizes are possible with out integrated structural support systems.
Several removable access panel options are available.
Modular Acoustical Panel Options
To provide solutions for the widest variety of applications, eNoise Control's modular acoustical panels feature an array of integrated, related components providing high performance acoustical characteristics combined with rugged structural integrity and design flexibility. A range of basic panel constructions and joining methods provide a unique combination of acoustical and mechanical features to best meet your specific requirements.
Construction Options
Panels available from 2″ to 8″ thick
Panels available up to 4′ wide and 12′ long
Sound Transmission Loss Ratings from STC 40 to STC 62
Sound Absorption Ratings to NRC 1.10
Components constructed from electro-galvanized steel, G90 galvanized steel, cold rolled steel, aluminum, and stainless steel
Construction material gauges from 22 gauge to 1/4″ steel plate
A variety of panel acoustical fill materials and encapsulation available
Available Doors and Windows
eNoise Control manufactures hinged access and personnel doors in custom or industry standard sizes up to 14′ wide and 18′ high. Doors are available with acoustical ratings to match the panel module style or project requirements up to STC 61 and in all available construction materials. Sliding doors are also available in similar sizes and with similar performance. Multi-layer glazed windows are available in many styles using tempered, laminated, or wire-reinforced glass. Also available are polycarbonate windows and impact and bullet resistant units to UL Level 3.
Performance Enhancements
RFI/EMI Shielding
X-Ray Shielding
UL Fire Rating
Ballistic Impact Resistance
Ventilation and Electrical Options
eNoise Control steel modular sound panel enclosures are available with a complete range of silenced ventilation, cooling, and heating packages. Enclosures are available with a variety of electrical lighting, power distribution, and accessories.
Factory Finishes
eNoise Control can provide high quality factory finishes to any of our modular components and systems. These include baked polyester powder coat and textured finishes.
Structural Support
Modular acoustical panel components are designed to be robust, self-supporting structures that meet all normal use codes. For applications requiring increased load bearing capabilities such as wind and snow, seismic resistance, or for very large expanses or unusual configurations, eNoise Control can design and manufacture a completely integrated structural support system compatible with the project requirements.