Sound Curtains
Sound Curtains offer maximum sound control and noise reduction using a combination of sound absorption and noise barrier material. Clients refer to our product as sound curtains, noise curtains, sound blankets, or hanging quilt blanket. Our sound curtains are modular, velcro sealed, noise reducing curtains that are effective, rugged, and industrial grade in construction.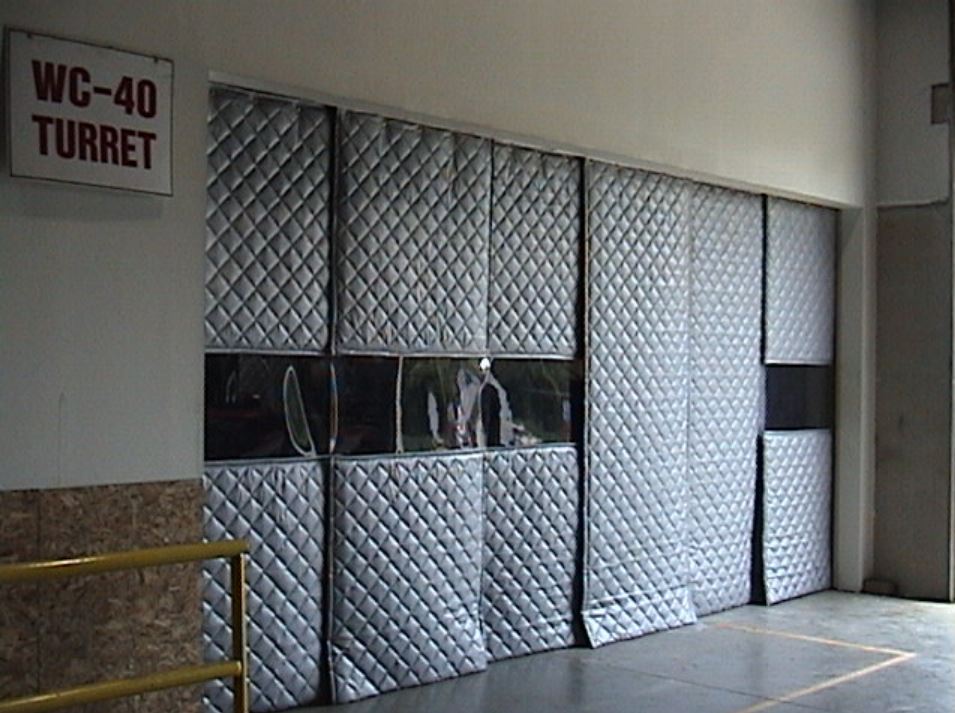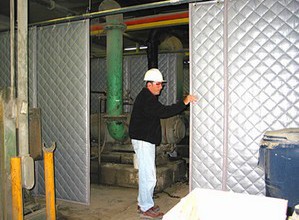 Sound curtains are used in many industrial, commercial, and OEM noise control applications.  The system can accommodate ventilation and access while maintaining high noise control.  Curtains are easy to install and can be moved for use in another location to accommodate machine or equipment relocation.
Soundproof curtains can provide a permanent, yet flexible, solution to your unique noise control situation. Our staff can help engineer the right system for your sound reduction goals.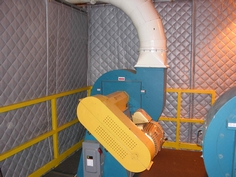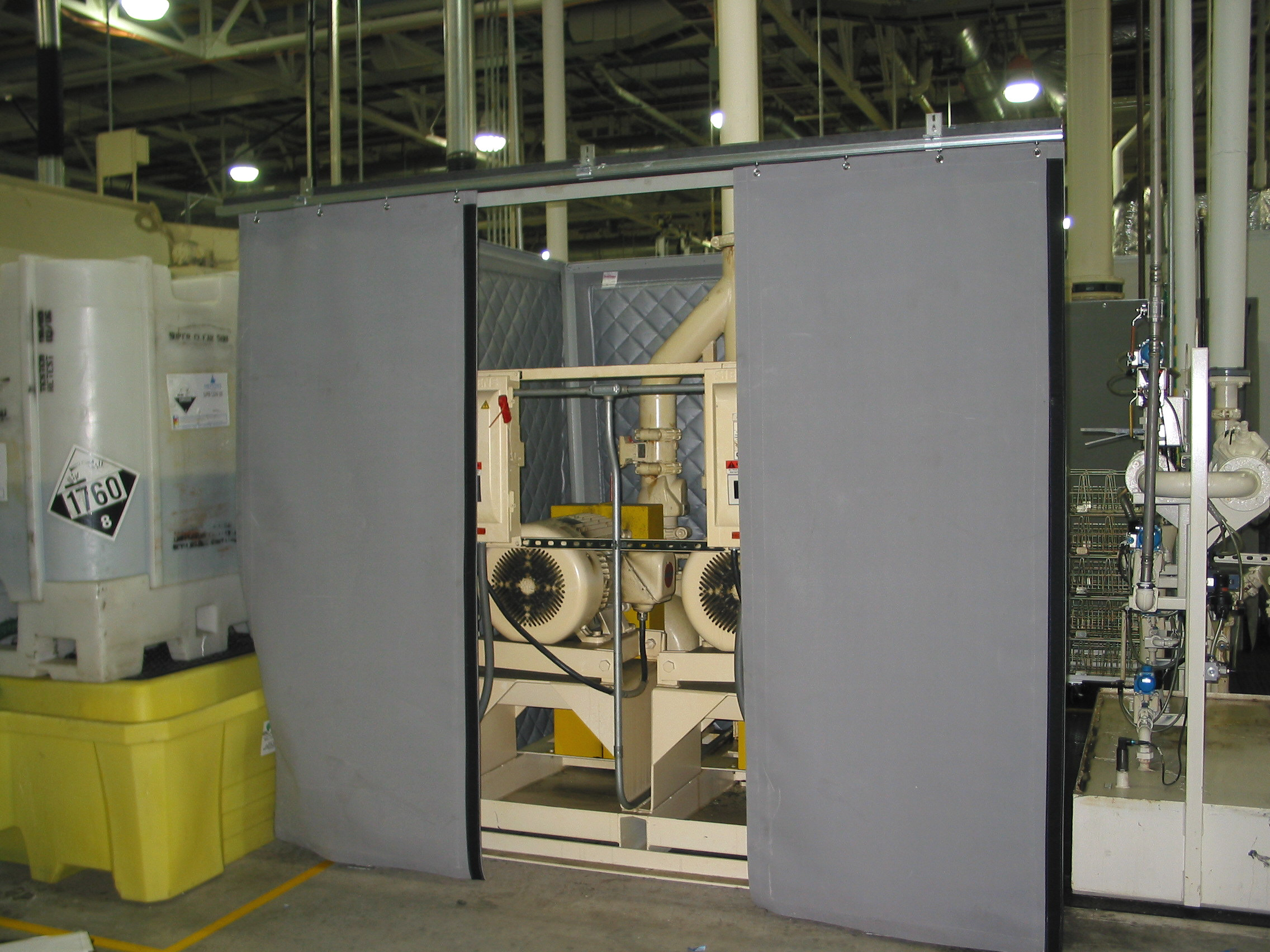 Typical Applications for Sound Curtains
Hydraulic pump enclosures
PD blower sound curtain partitions
Outdoor fence construction
Many industrial noise control HVAC projects
Years ago, industrial engineers labeled the product as a lead blanket. Since then, manufacturers have replaced the lead in the blankets with mass loaded vinyl, which is a safer material. eNoise Control can offer many enclosure or sound wall options for your sound proof application. Please call or email us today for design and price quote.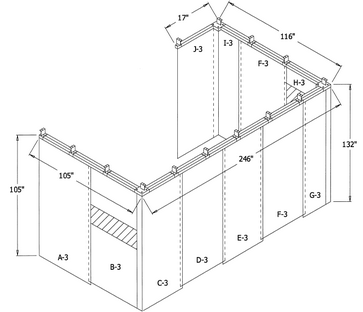 The National Institute of Health describes noise-induced hearing loss as the result of one-time exposure to a damaging loud noise, or as the result of ongoing exposure to a loud environment. In most cases, on-site workers have ear protection, but those around them do not. Noise pollution can affect downtown offices, commercial spaces undergoing construction and sound studios.
How Sound Curtains Work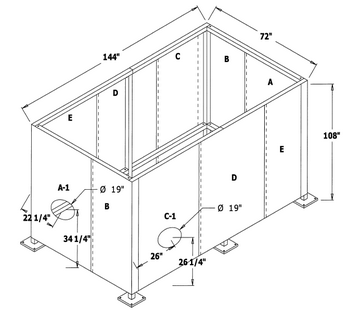 Sound curtains form a flexible barrier between sources of noise and living or working spaces. They work on the principles of absorption and redirection. Sound waves move through air in much the same way that ripples move through water. Like ripples in water, sound waves become disrupted when they encounter a barrier. The shape of that barrier affects how waves behave. The quilting on our vinyl-coated sound curtains forms multiple curved surfaces that redirect sound waves. As they bounce off the vinyl surfaces, sound waves lose their coherence and are rendered harmless.
Fiberglass quilting bonded to a vinyl barrier forms a second layer of protection from noise. Like insulation in a permanent wall, the batting within sound curtains absorbs sound waves and creates a quieter environment. A thick layer of padding reduces noise pollution with minimal bulk. While redirected sound waves lose their coherence, absorption reduces the overall level of sound. Choose a preferred thickness based on the degree of noise pollution.
Flexibility
Sound curtains differ from permanent noise-reduction installations in their flexibility. While they can be used as a permanent solution for noise reduction, soundproofing curtains can also be moved where they are needed and stored out of the way when not in use. For office buildings and commercial spaces that are undergoing renovations in stages, movable soundproofing isolates the worksite regardless of the location of the workers. They also can create a temporary sonic barrier around an enclosed space for meetings or break rooms on construction sites.
Unlike permanent walls, modular soundproofing curtains do not disrupt air-flow or limit access to soundproofed zones. Velcro closures make moving through the auditory barrier simple for equipment and personnel. An installation of sound curtains that surrounds noisy equipment can retract when that equipment is not in use, providing additional work space and allowing air to circulate freely.
Specifications
All of our sound curtains consist of vinyl, vinyl-coated fiberglass cloth and fiberglass batting
Grommets across the top border facilitate hanging
Class A flame spread (22.78)
Smoke density 30.0
1-inch or 2-inch thicknesses available
Velcro closures
54-inch-wide panels
1.3 pounds per square foot
Tested down to -20 degrees F and up to 180 degrees F
Sound Curtain Options
Our sound curtains are available in solid form and with windows to admit light into the workspace. Like the vinyl coating on the acoustical curtains themselves, the clear windows can withstand indoor or outdoor use. The window material is 1 pound per square foot flexible vinyl barrier. Because sound curtains rely on redirection as well as absorption, windows do not significantly reduce the efficacy of the soundproofing materials.
A range of colors enables you to select acoustical drapes that will blend in with their surroundings. Gray, white, black or tan curtains look unobtrusive enough for commercial applications such as coverings for mall storefronts while construction is underway. Black soundproofing has theatrical applications to keep backstage areas and lighting booths silent, while white soundproofing ensures that outside workplaces remain as cool as possible for the workers inside.
Available ventilation baffles keep curtained spaces acoustically isolated while retaining their airflow. Equipment that requires airflow can continue to operate safely, while workers remain comfortable. Choose passive ventilation panels to ensure regular airflow or use forced-air ventilation systems to keep electronic components and high-temperature machinery cool.
Sound curtain deadening material also is available in 4-foot-wide rolls as well as in pre-formed panels. Roll edges may be bound or unbound to allow complete customization of the work space.