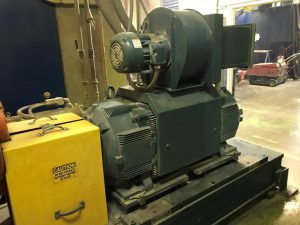 eNoise was contacted by a plastic resin company that has worked with us before on a PD blower application in which they used our sound curtains for noise reduction.
They had a new application – Plastic Extruder with a 500 Hp motor and a dedicated 1,500 CFM fan mounted to the motor housing.  The extruder is a new piece of equipment for them and it is very noisy.  The client wanted to put sound curtains around this equipment as well to reduce the noise.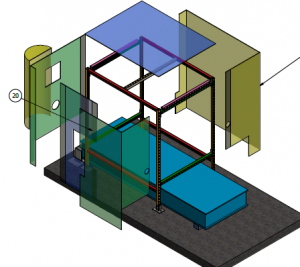 The client generated a 3D model of what they were looking for in the sound blankets including dimensions, and cutout locations.  eNoise supplied the custom sound curtain panels – Model UNC-13-2" Sound Curtain Panels Only, 1 lb. psf reinforced loaded vinyl sound barrier with a 2" thick vinyl faced fiberglass absorber on one side sides.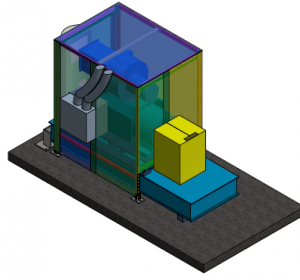 Grommets across top and mating velcro on the vertical edges. Includes all cutouts and custom sized ventilation baffle.  The ventilation baffles were sized to allow the 1,500 CFM airflow from the included motor cooling blower.
The intake vent baffles were mounted directly across from the blower intake.  Included were removable rigid roof panels and acoustical valence.
The client fabricated the frame and attached it to the extruder skid and mounted the provided custom fabricated sound curtains.
Please call or email eNoise Control to discuss your noise control application.