Outdoor Transfer Pump Noise – Case Study

Situation: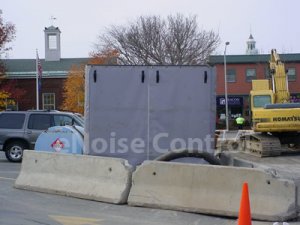 A national pump distributor was having community noise issues when setting their transfer or trash pumps outdoors in residential or heavily populated areas. These noisy, motor driven pumps were being used for dewatering applications typically for municipal projects and at times would run for 24 hrs. The pump company contacted eNoise Control for help.
eNoise Control surveyed the situation and posed many questions to uncover the transfer pump distributor's unique needs and sound reduction goals for this outdoor noise situation. First, not all pumping projects warranted noise control and the pump company stocked many different styles and sizes of pumps. The noise solution needed to be flexible and accommodating to several different pumps. Also, there was the issue of transporting and set up of the solution. The enclosure needed to be easily broken down, set up, and transported on a trailer. Most importantly, the solution needed to reduce the noise from the large pumps.
Solution:
eNoise Control proposed an outdoor sound curtain enclosure. The structure is constructed of tube steel columns and cross members that pin together to form an easily assembled and transported frame. The cross members contain pre-installed hooks to accept the outdoor sound curtain's grommets for hanging each panel. The sound curtain panels are constructed of reinforced loaded vinyl sound barrier bonded to a silicone faced noise absorber. This engineered composite sound blanket material is weather proof, UV, heat, and chemical resistant. The enclosure is expandable by adding more columns and panels and silenced ventilation baffles can be added for air flow needs. The customer is pleased with the final results. See photos below – Readings taken at the pump and at 25 ft. away.