Steel Sound Barrier Walls
Steel sound barrier walls are excellent products for outdoor applications.  They are very effective at blocking noise from equipment of processes that need ventilation and/or cover a large area.  The walls are constructed of structural steel columns – I-beams, W-columns with welded base plates.  The columns are designed and sized from the base plate up per the wind load of the project location.  The columns are 10′ on center.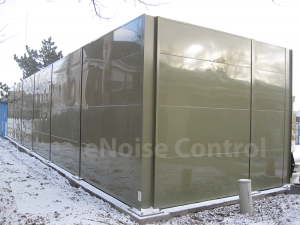 Between the structural steel columns are modular acoustic panels.  These panels are 4″ thick with 16 gage galvanized steel on the outside and perforated galvanized steel on the inside.  The panels are filled with acoustic grade mineral rock wool in a tedlar bag.  The modular acoustic panels are stacked in the webbing of the structural steel columns and held in place with a backer angle that is attached in the web of the I-beam with pre-punched bolt holes.  The panels have a tongue and groove connection and stack in a horizontal orientation until the desired height is achieved.
Because the sound barrier wall will be under a wind load, the footers must be designed to manage the load.  A structural engineer designs the footer depth and diameter, as well as any rebar reinforcement and the specifies the anchor bolt size for mounting the base plates.
Steel sound barrier walls should, at minimum, block the line of sight between the noise making equipment and the noise receiver.  eNoise Control employs software programs specifically designed for predicting community and environmental noise.  Given the sound power levels of the equipment, these programs can determine sound levels at given distances while considering reflective surfaces, distance, and barrier wall height.  A good rule of thumb when referencing barrier wall heights is to double the height of the noise source or 4′ minimum above the noise source.
Steel sound barrier walls are absorptive.  They have sound absorbing properties of the part of the wall facing the noise source.  This prevents the sound from reflecting back.
Accessibility
Doors of any size are available for access.  Types of doors:
Standard swing door for personnel access
Double doors for more space
Sliding doors for larger openings
Roll up or garage doors
Applications
Barrier walls are used for a variety of outdoor industrial applications such as:
Air cooled chillers
Large fans
Gas compressors
Large pumps
Cooling towers
Compressor stations
Deep well pumps
Dust collectors
Positive displacement blowers
Vacuum pumps
Call eNoise Control for more information on our outdoor steel sound barrier walls.