Steel Sound Enclosures
Steel sound enclosures are a highly effective means of noise control for industrial and mechanical equipment.  Our acoustic steel enclosures are engineered for superior noise control while allowing for easy access for both ventilation and maintenance. Custom engineered steel enclosures are a workable solution to your noisy industrial equipment. Below are examples of the features offered by our modular panel systems.
Access
A variety of access options are available to facilitate use of your equipment.
Removable panels
Maintenance doors
Double doors
Sliding doors
Bi-fold doors
Pneumatic doors
Telescoping panels
Acoustical double-glazed windows
Speed-erect connectors that allow individual panels to be removed in seconds for quick service access.
Ventilation
Passive or forced silenced ventilation
Silencers, acoustic hoods, acoustic louvers
Engineered air exchanges for heat loss
Sound Control:
2″ or 4″ (or thicker) acoustic steel panels
High sound absorption rates (NRC)
High sound blocking rates (STC)
Acoustical doors
Tongue and Groove Constructed Sound Enclosures
Our T & G Sound Enclosures are of modular steel construction with roll-formed "tongue and groove" (male/female) connections providing a simple yet very effective progressive construction of the enclosure. Accessories include access, ventilation and effective sound control.
Removable Panel Sound Enclosures
eNoise Control's removable non-progressive constructed sound enclosure utilizes a patented "quick-connector" fastener. The design offers a self supporting structural frame in which panels can be easily removed independently of each other for maintenance and accessibility.
Modular Sound Enclosures (smaller fit)
Engineered for smaller equipment, our Modular Sound Enclosure utilizes an independent extruded aluminum frame. The modular steel sound panels attach to the frame with a quarter turn latch system enabling the enclosure to fit tight to the machine and provide full access to the equipment.
Steel Sound Enclosure Applications
Vacuum Blower Sound Enclosures
eNoise Control supplies sound enclosures specifically for the vacuum blower market.  We are very familiar with the needs of noise reduction, ventilation (heat release) and access for maintenance.  Our team can work with you on your specific specifications and needs.  See example drawing below and application photos:

Our modular sound enclosures (i.e. housing, dog house, sound suppression box, sound booth, etc.) are built using aluminum steel (very durable and will not rust) for sound blocking and lined with acoustic foam (sound absorption).  We design for piping in/out (flashing for closing off openings).  Most clients will need forced ventilation to allow for air flow (CFM changes) and heat release.  Our system has silenced intake hoods to keep noise contained and fresh air to move in/out of the sound control enclosure.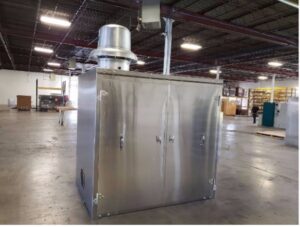 eNoise Control can provide our roof mounted fan with different CFM ratings depending on your air flow needs.  Our system is rated for indoor or outdoor use.  You can specify a sloped roof if needed.
Call or email one of sales specialists to discuss your vacuum blower project!