Braider Machine Sound Enclosure
High speed braiding machines can produce high noise level exposure to in-plant employees.  eNoise Control has provided noise control solutions for braider machine applications which include acoustic steel sound enclosures and sound curtain partitions.
See example of our sound enclosure system for a noise braiding machine.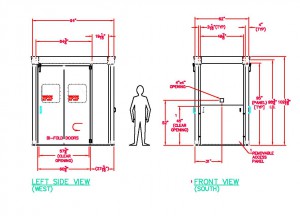 Our machine cabinet enclosure can be engineered for material feed in and exit.  We would also typically supply the enclosure with bi-part acoustic doors to allow machine access and maintenance while containing the high sound level.
Most of the braiding machines are of custom sizes which we can accommodate with our sound enclosure cabinet system.  You can also view a case history reprint of a Braider Sound Enclsosure Case Study by NIOSH.