Sound Curtain Mounted to Steel Frame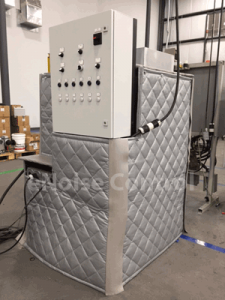 A client was constructing an in-line test stand containing a hydraulic power unit, motor, and a shaft. The components were to be mounted to a tube steel welded frame. They expected the sound levels of the test stand to be significant. They contacted eNoise Control about mounting sound curtain panels to the frame for noise control.
The client sent us a drawing of the frame and a general layout of the control panel and shaft location. With this information, we were able to provide the client with an isometric drawing of the sound curtains on the frame. Due to the potential for heat build up inside the enclosure, we also provided a silenced air intake and exhaust for passive airflow through the curtain enclosure.
The sound curtains easily mounted to the frame with grommets across the top of each panel. Velcro on the vertical edges provided a good acoustical seal to allow very little sound to escape the enclosure. The panels used for this project were eNoise Control Model UNC-25. This product is a 1 pound per square foot loaded vinyl sound barrier with a 2″ thick reinforced vinyl faced fiberglass absorber on both sides. The quilted diamond stitched vinyl facing is resistant to tears and stains common in industrial settings. Below are photos of the steel frame before the curtain treatment and a drawing of the curtains showing how they would fit the steel frame.
The client was very satisfied with the results. Call eNoise Control do discuss your specific noise control project. We can manufacture these products in a variety of specifications and configurations to fit your space, needs, and budget.