eNoise Control's STC 50 Sound Rated Doors are factory assembled, pre-hung, acoustical rated doors.  They include the installation magnetic seals and all hardware and glazing if required. The door leaves the factory ready to install, including the installation magnetic seals, all hardware and glazing if required. The split-frame system allows for an easy installation for a wide array of site requirements.
A completely factory assembled door system

Single source responsibility for seal, hardware and glazing installation

Easy and fast on-site installation.

Proven laboratory and field performance

Flexibility in size and configurations, including choice on veneers
Technical Support & Installation Instructions
Technical support personnel and representatives with the experience necessary to assist you in the design, supply and installation of the STC 50 Door.
Submittal packages include the drawings, test data and easy to follow step-by-step installation instructions to allow your personnel to install the door systems. also offer professional installation service throughout North America.
STC 50 Doors are – 2½" Thick and Weight – 10.1 lbs. per sq. ft.
Heavy Duty Sound Rated Door Assemblies
STC 50 large double doors are used in applications where you need noise control in a building and need access to move large objects in and out of the facility.  Industrial, Military and Stage doors typically require this type of door.  Many times, roll up or garage type doors are utilized for these applications.  These types of doors are very poor at keeping noise out and inherently hard to acoustically seal.  This is where large sound rated flush mounted swing doors are a perfect fit for the application.

STC 50 HD Large Doors Features
Each door & frame assembly includes:
All necessary door frame materials
A minimum 4" thick door leaves are constructed of minimum 12-gauge steel skins
HD Doors are constructed of STC 50 Panel Construction
Doors are engineered with the proper size and number of hinges and/or other type of support  in order to avoid sagging
The doors will have flush mounted top and bottom slide bolts to lock them in place
Each door leaf have a minimum of two (2) heavy duty hinges (one cam-lift) per leaf. Hinges are factory installed (bolted) to the door leaves and field bolted or welded to the structural frame by the installer.
Includes all necessary sound seals and hardware
The doors will be constructed of steel and fire-resistant materials
Adjustable neoprene coated compression bottom seal, factory installed. Bottom seal can be serviced without the need of removing the door leaves.
The door and frame assembly are prime painted or powder coated
The doors can be designed to meet a one (1) psi pressure rating
These doors require a steel C channel frame embedded into the existing concrete host build walls.  the frame will nest into the channel frame and be bolted or welded in place. The C channel design will be included in submittal drawings. The structural C channel is be supplied and installed by others.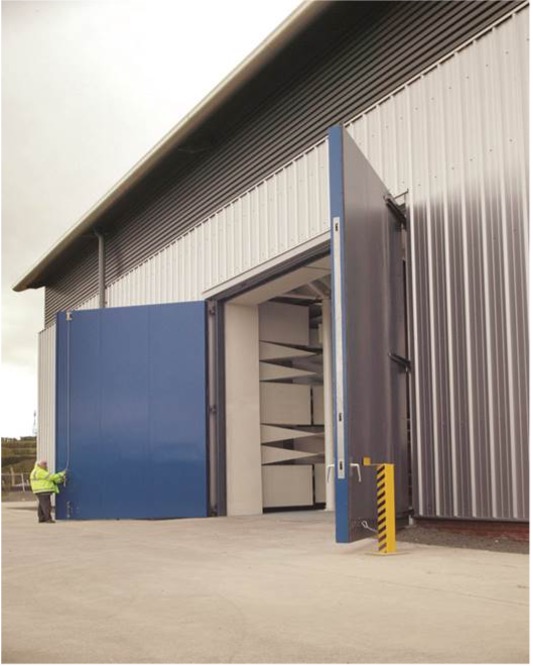 Sound Transmission Class is a measure of sound transmission loss through a material or assembly, showing its effectiveness in blocking noise.
Large STC 50 Doors will be custom build for sound control applications. These custom made doors that meet the STC 50 rating will have specific designs, construction materials, and features to reduce sound transmission.
Door Construction: Doors constructed with heavy-duty materials like heavy gage steel. This provides superior sound blocking properties and will withstand the demands of harsh environments.
Door Seals: STC 50 doors will be provided with multiple acoustic seals to create an airtight and soundproof seal. These seals help prevent sound leakage around the door perimeter.
Heavy Duty Hardware: Heavy-duty hinges, handles, and closing mechanisms designed for durability and security. These components will be capable of withstanding the demands of your application while maintaining the door's acoustic properties.
Certification and Testing: The Sound Rated Door's design will tested and certified by independent acoustic testing laboratories to meet the desired STC rating. This ensures that the doors have undergone acoustical testing to validate their Sound Transmission Class rating.
Our STC 50 Acoustical Doors Include:
Guaranteed acoustic performance

All doors are tested at an independent NVLAP approved testing facility

All hardware, seals, and hinges are factory-installed

Door includes custom cam-lift hinge design, eliminating the need for a threshold in most applications

Adjustable mortised bottom seal allows the door to adapt to site floor conditions

Double magnetic seals at head and jambs

Split frame assembly allows installation into existing openings

All doors with vision panels are factory glazed prior to shipment

Designed to work with standard building hardware, factory installed if desired

Ease of operation conforms to ADA

Available in single-leaf, double- leaf and bi-fold designs

Wood veneer finish available

All door and frame components are tested as a complete assembly prior to shipment.
To get started, give us a call at 888.417.1903 or send us an email to info@enoisecontrol.com.