Air Force Bases, Army Bases, Government offices, Defense Contractors all require secure areas that are designed to handle classified information securely. The SCIF must adhere to strict specifications in order to prevent unauthorized access or disclosure of classified documents and information.  The door to access these rooms is one of the most important components.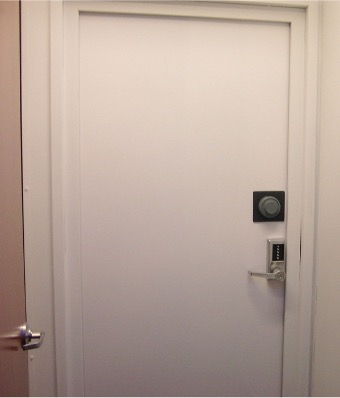 SCIF doors are specially designed to meet the high-security and acoustical requirements of government and military facilities. Highly specialized cypher locksets and hardware are employed to only allow authorized personnel inside the room.  CDX-09 and LKM7000 series combination locks to meet all Sound Group requirements.  Available with RF Shielding up to 50db that is employed to stop any electronic surveillance of the room.
These SCIF doors are typically STC 50 doors.  STC or Sound Transmission Class 50 doors are tested and sound rated to reduce noise transfer of 50 dB.   These high STC doors include custom cam-lift hinges, eliminating the need for a threshold.  Adjustable mortised bottom seal allows the door to adapt to site floor conditions.  Double magnetic seals at head and jambs that provide a superior acoustic seal.  The door jams are a split-frame assembly allows installation into existing and many different wall thickness openings.  All doors with vision panels are factory glazed prior to shipment.   STC 50 SCIF Doors are metal doors typically with a wood veneer applied to the faces. The frames are prime painted metal. Veneer can be supplied finished or un-finished.  Standard Wood Species of Veneer include. Anigre, Ash, beech, Birch, Cedar, Cherry, Mahogany, Maple, Red Oak, White Oak, Pine and Spruce. Other species are available.
STC-50 Doors – 2- 1/2" Thick – 10.1 PSF
Third Octave Band Center
The STC 50 SCIF doors are guaranteed to exceed the STC Rating of DCID 6/9 and JAFAN 6/9.  Available in Acoustic Ratings STC 48-52 and meet NSA 73-2A and 65-6 as well.