Studio Sound Doors
eNoise Control is a premier manufacturer and supplier of studio sound rated doors.  Our sound doors are manufactured and acoustically tested (ratings of STC-45, STC-50, STC-53, STC-60) to meet your music studio/control room performance needs.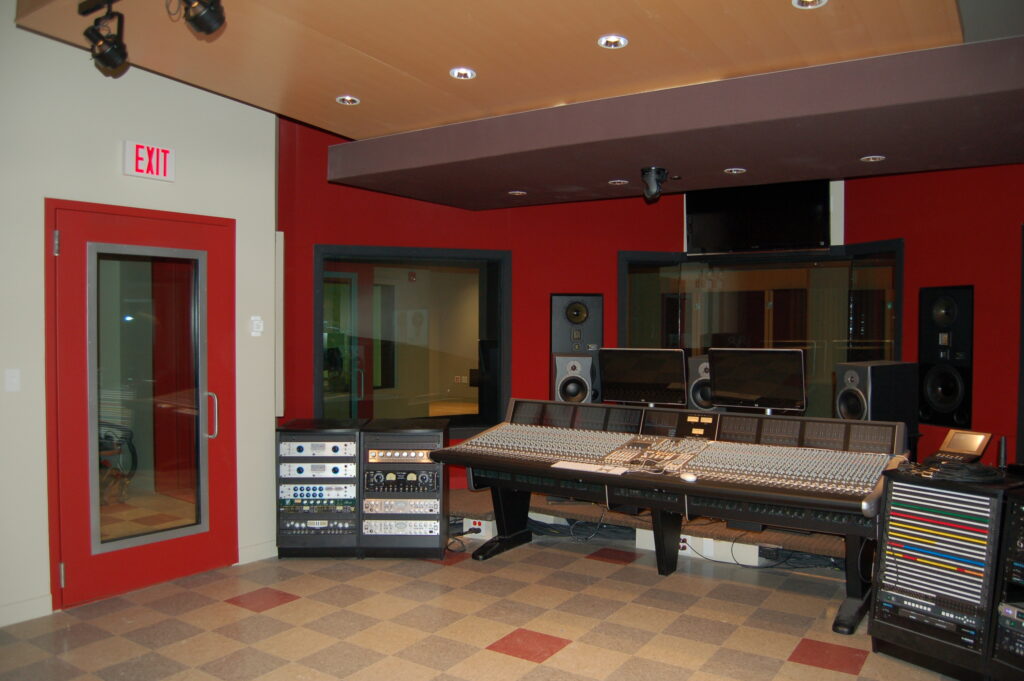 Sound studio application with acoustic rated door and windows
Applications include recording studios, control rooms, mix rooms, TV studios, and Pod Cast Rooms.  We offer painted steel and wood veneer finishes.  Windows and full light view are options without compromising the acoustical ratings.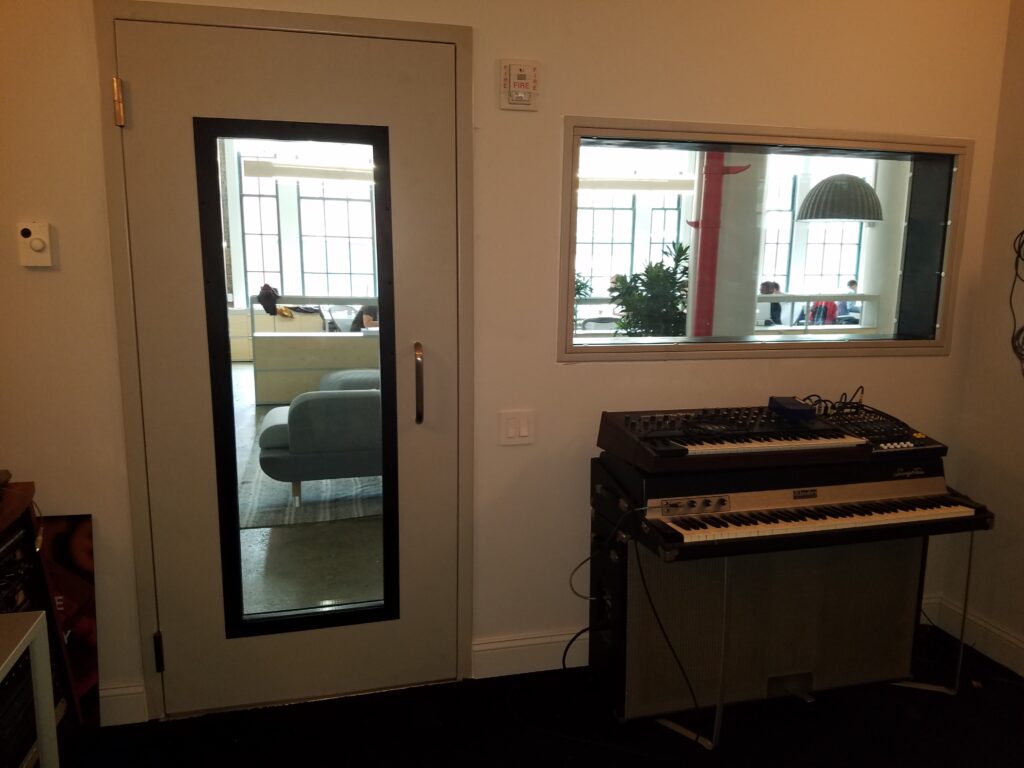 Recording Room Studio Sound Door
Our soundproof studio doors are prefabricated, pre-hung, split frame doors that show up on-site ready to be installed.  No time-consuming door kits, multiple parts/pieces to assemble in the field.  Our STC rated acoustic doors meet performance test ratings (lab and field) to assure that the sound control meets your acoustic goals.  No bleed through noise, no air gaps, that other manufactures suffer with field performance.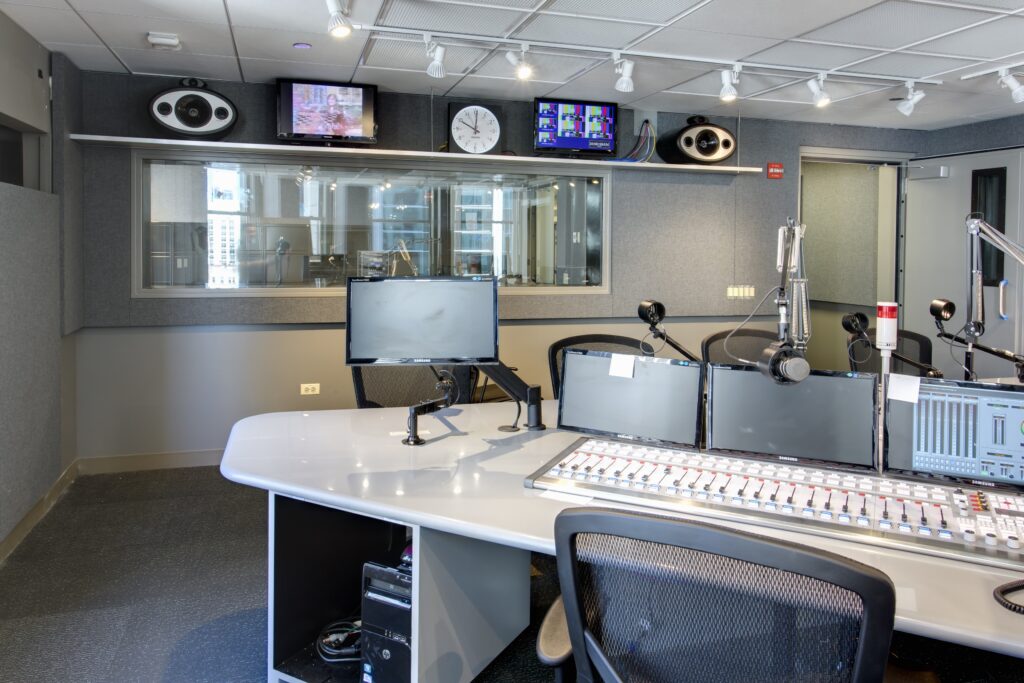 Radio podcast studio application with acoustic rated door and windows
Clients details to the overall sound wall construction (i.e. layers of drywall, staggered studs, fiberglass fill, etc.).  We can match that acoustic rating wall design with our studio doors.  Most clients specify our STC rated 50 doors to ensure noise control suppression from mixing room to performance/rehearsal room.  The split frame design allows the installer to easily hang the "female" side of the door and then mate with the "male" side of the door to ensure a proper fit and seal.  The cam-lift hinges (standard) allow for the door to open easily and then "set" into the door threshold for a positive acoustic seal at the bottom and perimeter.  This design allows eNoise to gain a reputation for best studio sound door on the market.  References from artists, TV studios, podcast stars, and musicians from all over the country including cities like Los Angeles, Atlanta, Miami to Nashville.  
Soundproof Studio Windows
Are ideal for new construction or retrofit application and easy and fast to install. All window units are factory glazed with a 12 gauge steel frame with 16 gauge stops.  Available in several deign configurations -Fixed Frame "HM", "U" frame or "Split frame" HM design. The windows are factory assembled and glazing does not need to be removed to install window units.
HM Windows have a hollow metal design with a fixed frame or split frame. STC rating from 48 to 64 (higher for triple-glazed) and glazing from 1/4" to 1 – 3/16" thick with a vertical or sloped glass design.  There are custom sizes available.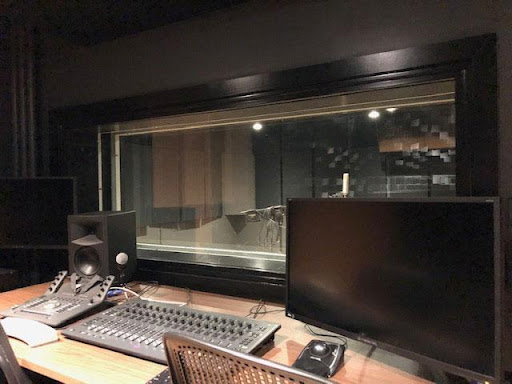 Soundproof Recording Studio Windows
HM -SF (SPLIT FRAME) WINDOWS have Heavy Gauge Steel frames with two-piece frames for maximum isolation.  The Complete Kit, Field assembled with either Double Glazed, vertical or sloped.  STC rating 48 to 64. There are custom sizes available.
U WINDOWS have a "U" frame design can fit any wall thickness with Aluminum or rubber glazing channels.  These windows are suitable for use with modular panel systems or standard construction.  STC ratings from 43 to 64 with custom sizes available.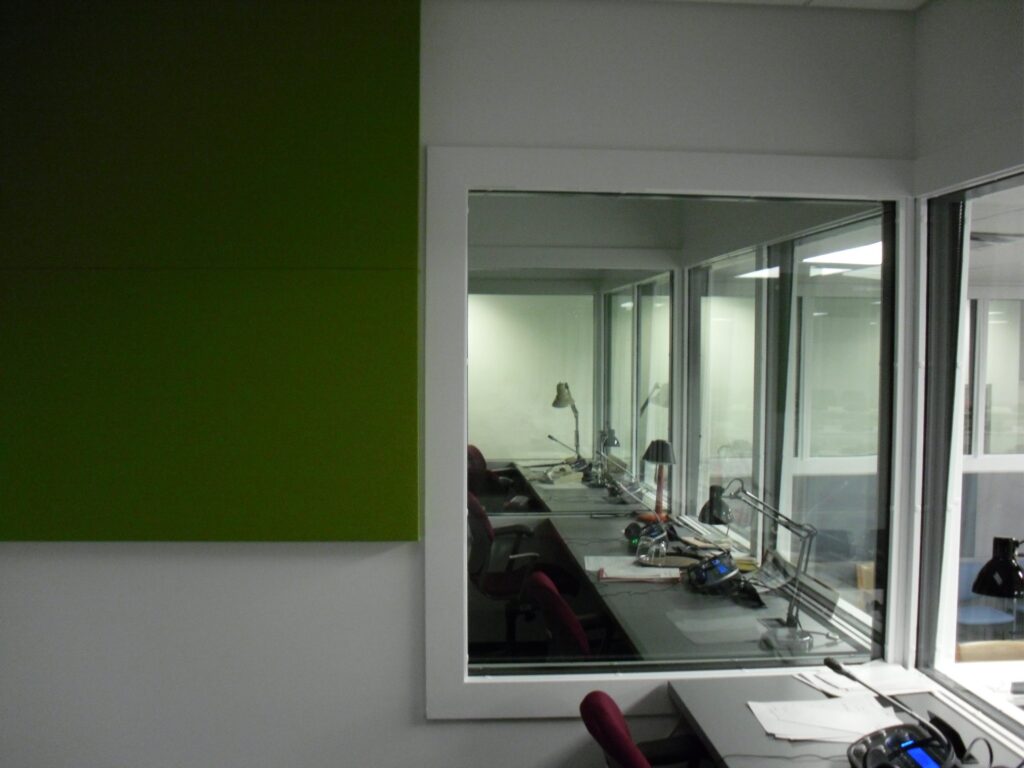 Sound Proof Rated Windows
Sound rated acoustic windows are typically used in recording studios, control room or missing rooms.  The windows are factory pre hung and fully assembled with high STC rating.

Call us at 888.417.1903 or email us at info@eNoiseControl.com to discuss your studio sound door and window needs today!