Reduce Noise on Your Condensing Unit Fan
A common noise problem in many cities is condensing unit noise from the fans typically on the top of the unit. The fans produce a low frequency drown sound that travels long distances. Many of these units are located on a roof or on grade near the building which opens the door to noise issues to the occupants located adjacent or above the unit.
Rooftop Condenser Fan Noise Abatement
A solution to the fan noise is an eNoise Control acoustical silencer, or roof top sound condenser.  The silencer is typically constructed of 16 or 18-gage solid galvanized outer skins, 22-gage perf liner with standard acoustical fill with seams locked formed and mastic filled and fiberglass cloth liner between inner skin and fill.
The silencers are heavy, and the unit casing is not designed to support this weight, so additional structural support will need to be added to support the silencer weight.  Silencer are most effective at 36" or longer.  Below is a top view looking down into the silencer.
You can see the condenser fan and the silencer baffles that are perforated steel and filled with acoustical absorption as well as the silencer wall.  As the fan noise travels through the condenser acoustical silencer, it is absorbed by the acoustical fill and the sound is reduced.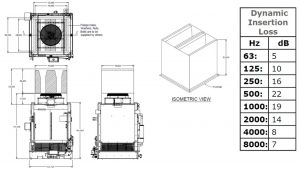 We have treated and dampened noise from most major manufacturers of commercial condensing units such as Liebert, York, Trane, Daiken, Carrier, etc.
As you can see from the sound insertion loss data, the sound reduction is significant. Please contact eNoise Control to discuss your noise reduction application.