Chiller and Compressor Removable Sound Blankets
Compressors are used in virtually all HVAC cooling units.  Outdoor condensing units of every size are manufactured by Trane, York, Carrier, and McQuay.  These air-cooled chillers utilize screw compressors, reciprocating compressors, or scroll compressors for their operation.  The compressors typically create a hum or whine noise that is at a frequency that irritates people.  This noise also emanates from the compressor piping and oil separator.  A rotary screw chiller is infamous for being one of the noisiest units.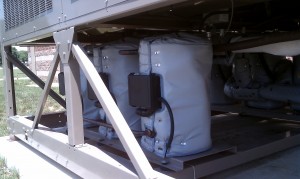 A solution to this noise issue is installation of compressor blankets.  These noise suppression blankets wrap the Copeland compressors with acoustic jacketing to contain the noise.  The acoustic blankets can also be manufactured to cover the piping and oil separator for added sound reduction.
Indoor units are called centrifugal liquid cooled chillers.  These HVAC units are part of a split system with an outdoor condensing unit.  Acoustic blanket insulation and jacketing is a great sound reducing solution for noise control on the indoor units.  Indoor chillers are manufactured by the same companies that make outdoor chillers.
Chiller Model Numbers
| | | | | |
| --- | --- | --- | --- | --- |
| Manufacturer | Trane | York | Carrier | Mcquay |
| Model | RTAA | YCWS | 30HXC | AWS |
| | TRTAC | YCAL | 30HXA | AGS |
| | RTHC | YCRS | 38AH | AGZ |
| | CGAM | YCAV | 38AKS | WCZ |
| | RTWD | YCIV | 30RB | ALS |
| | RTHB | YCUL | 30XA | |
| | RAUJ | YSAS | 30GX | |
| | RTHA | YCWL | 50HJQ | |
| | RTHD | YC | 30GTN | |
| | RAUCC | YK | 30GXN | |
| | SFHLF | YSAS | 06D | |
| | | YV | 30XW | |
| | | YUAA | | |