Sound Transmission Class Rated Doors, or STC Rated Doors, are used in a number of settings. These venues include recording studios, acoustic test labs, schools, performing arts centers, music halls, conference centers, boardrooms, hotels, hospitals and many more. While each of these uses is unique, there are a number of features that every STC Rated Door needs to have. We gathered a list of features to consider to find the door for your need.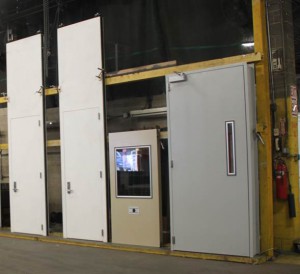 What are Sound Transmission Class Ratings
Before jumping into the features of the Best STC Rated Doors, we wanted to share a bit more about Sound Transmission Class ratings. Sound Transmission Class is an integer rating of how well a building partition reduces airborne sound. Here in the United States, it is often used to rate interior partitions, ceilings, floors, doors, windows, and exterior walls. Outside the United States, you may see SRO, or Sound Reduction Index, ISO.  As far as what can be heard through each rated, see the chart below.
| | |
| --- | --- |
| STC | What can be heard |
| 25 | Normal speech can be understood quite easily and distinctly through the wall |
| 30 | Loud speech can be understood fairly well, normal speech heard but not understood |
| 35 | Loud speech audible but not intelligible |
| 40 | Onset of "privacy" |
| 42 | Loud speech audible as a murmur |
| 45 | Loud speech not audible; 90% of the statistical population not annoyed |
| 50 | Very loud sounds such as musical instruments or a stereo can be faintly heard; 99% of the population not annoyed. |
| 60+ | Superior soundproofing; most sounds inaudible |
Note, that you cannot rely solely on STC rating when selecting STC Rated Doors if low frequencies are present. Contact us to talk with one of our Acoustical Consultants to find the right solution for you.
Features of the Best STC Rated Doors
While there are plenty of features to consider on STC Rated Doors, we focus on a select few. These top features which we expand on below are STC Rating, Door Material, Door Hardware, Compression Seal, Aesthetic, and lastly Installation.
STC Rating
It goes without being said, that having the proper STC rating on your STC Rated Doors make a major difference in the effectiveness. Even if all other aspects of the door are set up properly, the intended sound reduction will not occur. We carry STC Ratings anywhere from STC 26 all the way up to STC 70.
Door Material
There are two primary materials for STC Rated Doors. One is timber, or hardwood, and the other is steel. While hardwood is a great material, it can get very expensive. There are many types of wood door options, many of which are not entirely wood. These options often have a core of foam insulation for sound control. Hardwood stc rated doors are great options for architectural purposes where steel doors would look out of place.
Steel, on the other hand, is often the go-to choice for industrial applications. Along with the performance of steel STC Rated Doors, the appearance has also been improved drastically.  Benefits of steel doors are their superior durability, strength, longevity, and security. Steel doors can also provide better sound reduction than hardwood options.
Door Hardware
The last thing you want to be doing upon the arrival of your Sound Rated Door is scrambling to find additional hardware or accessories. The best STC Rated Doors will have al of the necessary hardware include upon delivery. The specific hardware would be based on your needs and requests along with the recommendations from an acoustical consultant. The absolute best doors will have the hardware installed upon delivery.
Proper Seal
A chain is only as strong as its weakest link, and the same goes for STC Rated Doors and their door seals. The two main types of seals are adhesive seals and compression seals. Adhesive seals are more common due to their ease of installation and cost-effectiveness. They do however offer limited adjustability once installed and are difficult to modify. Compression seals, on the other hand, are more durable and offer a higher range of STC ratings. They do require custom acoustical frames paired with a higher level of installation knowledge.
Aesthetic
While the Aesthetics of STC Rated Doors may not be on the top of your mind, it should still be considered. This is especially the case for certain uses including in Board Rooms, Hotels, Schools, and even Yoga Studios. There are now over 100 species of wood veneer that can be finished to nearly any specifications. In addition to this, there are a number of stainless steel finishes including embossing, patterns, etching, colored, and more! Make sure the door you choose fits the aesthetic needs in addition to the technical requirements.
Installation
When ordering STC Rated Doors, the last thing you want is a surprise. Too many people are surprised to find their new door arrives in pieces. This often results in a 7-hour assembly and installation time. The best doors are shipped fully assembled resulting in a quick and easy 90-minute installation. When installing multiple Sound Rated Doors, this faster installation time can make a world of difference in reducing the interruptions to your work.

Where to Buy The Best STC Rated Doors
 When it comes to buying the best STC Rated Doors, look no further than eNoise Control.  Our team of acoustical consultants can ensure that all of your requirements are met and you get the perfect STC Rated Doors for the job. Our doors combine all of the must-have features listed above in one highly effective and easy to install package. This includes:
-The door is factory assembled, pre-hung, and adjusted in the plant
-In-factory adjustments ensure the highest acoustical performance
-Magnetic seals, foam seal, and specified hardware all installed at the factory
-Mortised, adjustable compression seal is installed at the factory
-Two-piece split frame is sized to fit existing rough opening
-By reducing installation time by over 75%, we reduce your installation costs
When you are ready to get yourself the Best STC Rated Doors, give us a call at 888-417-1903 or send us an email to info@enoisecontrol.com to get started.