Temporary Acoustic Barrier Panels
Nobody likes excessive noise. This is especially true of those who aren't contributing to the cacophony themselves. After all, spending your evening listening to a crowd gathered for a big concert is never any fun. By the same token, being kept awake all night due to sound from a nearby construction project is downright irritating.
Unfortunately, these kinds of loud noises are going to happen. Big events will always attract large, and sometimes rowdy, crowds and there will always be construction sites.
That said, there is a way to create a buffer between the source of noise and the general public. The sound screen barrier is a multi-functional new product offered by eNoise Control. This sound-reducing fence helps lower the volume of noise being heard by nearby residents and businesses. Not only that, but in many cases, the barriers eliminate escaping sounds entirely.
The highest levels of noise control available in the temporary sound barrier market
The sound barrier blankets are easy to install
The acoustic blanket products are waterproof, 100% weather-proof and UV resistant
Aesthetic temporary sound barrier
Temporary Installation
Most situations that cause excessive noise are temporary. Therefore, it is important that the sound blocking solution you choose is also temporary.
Because Sound Screen Barrier fences are lightweight, they are easy to move from one place to the next. Not only can they be carried by hand, their lack of heavy parts also makes finding the proper vehicle to transport the pieces much easier.
The barrier fittings are structurally sound and were designed with temporary use in mind, meaning the pieces are simple to put together and take down. In short, this means less time spent installing the fencing. It also means fewer workers are needed to complete the process.
Considering the portability and ease of setup that the Sound Screen Barrier provides, it should come as no surprise that the screens disassemble and store easily. This makes it possible to set the screens aside for other future temporary uses.
Effective Noise Containment
Many people wonder how effective a temporary set of barriers could be at controlling a noisy situation. After all, nobody expects something as seemingly innocuous as a fence to block out the sounds of a neighboring noise maker. However, because of precise construction methods and the specialized materials used to build the sound screen barrier, they are actually very effective.
In fact, this temporary fencing has been tested and proved to have sound attenuation of up to 40 dB. The barriers accomplish this by insulating the noisy area, making it more difficult for sound to escape. Instead, much of the noise is absorbed by the barriers, ensuring the majority of it is contained.
For those who want increased noise control, the barriers can be easily moved to isolate a smaller portion of work or event area. This will further reduce the amount of noise heard by those in the vicinity.
Durable Design
The Sound Screen Barrier is almost always used outside. Often, they are also used in rough construction areas or dusty, dirty locations. Fortunately, this fencing is incredibly durable, meaning it will last for long periods of time, even when used in less than ideal situations. The temporary outdoor sound blankets last 5 years outdoors with continuous use. Models are also available for 10+ years outdoors.
Because weather is unavoidable, the Sound Screen Barrier is made to stand up to rugged conditions. The front and back sides of every panel are waterproof, so even the heaviest rainstorm won't be an issue. The solid construction of the panels means they can withstand heavy winds despite their light weight.
In addition to being weatherproof, the panels are also difficult to tear or break. Therefore, setting up the panels in a space where there may be flying rocks or dirt is not an issue.
Aesthetically Attractive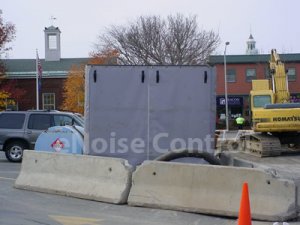 A work site surrounded by presentable fencing is much less likely to cause complaints. Additionally, a nice fence surrounding your project gives your organization an image of professionalism that will sit well with future clients. That said, finding presentable temporary fencing that fulfills all of your needs can be a chore.
Fortunately, the eNoise Control Sound Screen Barrier can provide the clean, professional look you need while still serving a functional purpose. Not only are the panels well made, they are also customizable. This means that you can choose a color that compliments your project and even display a logo letting people know who you are.
To make a good thing even better, the ability to quickly clean the barriers will help you maintain the fencing's attractive look. Simply hose the pieces down to chase away dirty and grime.
Versatile Implementation
Thanks to their temporary nature, effectiveness, durability, and attractive appearance, the Sound Screen Barrier has a wide variety of uses. From construction crews to event organizers, many individuals and companies put these barriers to work. Below are some examples of industries that use Sound Screen Barriers.
Construction
Projects are often located near noise sensitive areas. We provide temporary sound barriers for construction sites that meet specification, allow you to work longer and get the job done in less time, with less complaints.
Oil and Gas
Pipeline construction, compressor stations, directional drilling, transfer pumps are common applications we address with the use of sound control blankets
Highway and Bridge Construction
Simple sound barrier fencing for these applications protects communities and businesses from noise, dust and debris.
Demolition Industry
Building demolition is a common use for blanket noise barriers to protect communities and businesses from noise, dust and debris.
Rail
As the trains always need to keep running, rail projects are renowned for time sensitivity. Our sound curtains are quick to assemble and take down, keeping community disruption to a minimum.
Energy and Utilities
Constructing a distribution network, directional drilling, digging trenches, or mining all require outdoor sound curtains to accommodate noise problem.
eNoise Control provides sound control solutions to all applications in a wide variety of industries and have had expertise with solving problems almost every noisy piece of equipment or process in use today.  We would be happy to assist in helping you solve your noise control solution.