It is common for multi storied commercial buildings, schools and hospitals to locate chillers and condensing units on the roof. By locating the units on the roof, it frees up space outside and inside the building for other purposes. Chillers have three main noise sources:
Compressors (including compressor piping and oil separator)
Discharge fans
Unit casing
Chiller manufacturers assist designers by providing the sound power rating for their units in third octave band sound data. This sound power data can be used in conjunction with community noise modeling software to estimate the sound levels in at the property line and at specific distances from the chiller. This would be helpful when obtaining permits and assessing whether you are within the municipal noise code.
Below is an example of a hospital building, three stories high with two (2) existing air-cooled chillers on the roof mounted to a dunnage steel frame. They are currently within the city's noise limit, but are planning to add a third chiller that may put them over the noise limit.
Manufacturers publish sound power levels for each chiller in third octave bands.
Outdoor Sound modeling software used for accurately predicting sound levels at distance.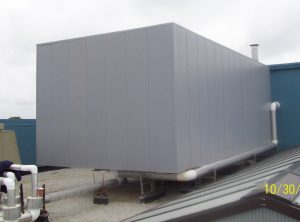 Most chiller noise issues can be solved with compressor blankets and/or a strategically designed sound barrier wall. Sometimes the property line is very close to the chiller location or the neighbors are less than a stone throw away and more aggressive sound reduction equipment is needed to placate the city and the neighbors. This is when we can utilize a full sound enclosure with intake and exhaust silencers to achieve the highest sound reduction. Before and after photos below.
Call eNoise Control to discuss your Chiller noise control application.