Acoustic Baffles
Acoustic baffles are a low cost and non-intrusive solution to many common noise control problems. These ceiling or overhead baffles absorb reflected noise (sometimes called reverberated sound) bouncing off hard flat walls, floors, or ceilings. Baffles are an absorptive board or sound barricade that can be placed around or between acoustic sources to provide sound isolation or deadening and reduce acoustic leakage.  A fundamental tool of noise mitigation is the use of sound baffles.
Most baffle products are easy to install and come in many styles such as PVC, Poly, Sailcloth, FDA, sound curtain, and foam. They are an effective noise barrier when applied to walls and ceilings in building interiors to absorb sound energy and thus lessen reverberation. Sound baffles are ideal for reducing reverberation times anywhere you encounter airborne sound transmission, such as gym noise, pool noise, cafeteria noise, clubhouse noise, churches, schools, metal building noise, and multi purpose room noise.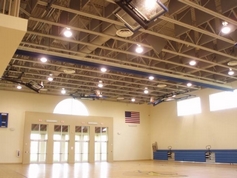 Typically suspended from the ceiling, sound baffles may be used as acoustic wall panels as well to assist in reducing reflective or reverberating noise. By definition, a sound baffle is any object designed to reduce airborne sound. eNoise Control, Inc. can help you find the right sound baffle product for your individual application.
Learn about some of the different options available for acoustical baffles.