Steel Sound Panels in Frame for Machining Enclosure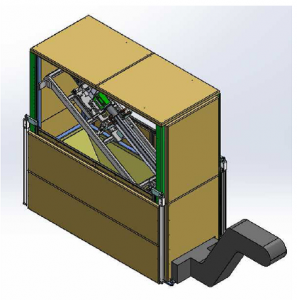 A custom machine builder contacted eNoise Control with a concern about noise from a machining center they were building. The client had constructed a skid and support frame for the specialized machining operation. They needed sound blocking panels to attach to an existing frame.
The client supplied dimensions for the frame and how they wanted the sound blocking panels to be formed to fit into the existing frame and door assemblies. eNoise Control provided acoustic steel panels to quiet the sound for the enclosure.
Panel Features
2″ thick modular steel panels
16 gauge solid type G90 galvanized steel exterior shell
22 gauge perforated galvanized steel interior shell
Acoustical grade sound absorbing fill
Outer flange only to fit the panels flush with the frame
Mechanically attached with fasteners
Powder coated
RAL color chosen by customer
These steel sound panels are an effective and low cost solution to any noisy frame-based equipment. Contact eNoise Control for help with your project. We can help you determine the size and quantity of panels to fit your frame and design them with features to meet your needs. If you need a full sound enclosure for your noisy equipment, eNoise Control can help you design a custom noise control solution.