Sound Curtain and Noise Blanket Comparison
If you are looking for sound absorption materials, you have probably come across terms like sound blanket or noise curtain.  You may also be wondering what the difference is between these two similar sounding names.
In the noise control industry, we differentiate between curtains and blankets, although we understand that some of our customers use the terms interchangeably.  Both are excellent ways to mitigate your noise problem.  The use and construction of the materials differs slightly.
Curtains
Sound curtains are often used to construct a wall or enclosure that both absorbs and blocks sound.  They are manufactured in panels with velcro strips to join them together.  Grommets on the top edges allow them to be easily hung to a support structure.
Features:
Modular
Quilted vinyl facing
Available in grey, black, white, and tan
Interior and exterior facings
Clear vinyl viewing windows
Blankets
Sound blankets are a flexible, removable sound insulation product that is used as a wrap or jacket for noisy machinery and pipes.  Commonly used on chillers, compressors, and fan housings.  The material is custom fit to the equipment and provides easy access for maintenance.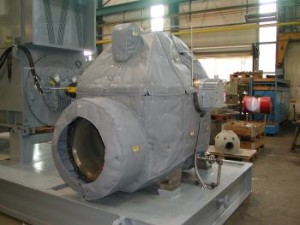 Features:
Chemical and weather resistant
Fasteners for easy installation
Teflon impregnated fiberglass cloth
How do I know which to choose?
As you can see from the images and descriptions above, noise curtains create a wall or enclosure to block sound, much like window curtains block light or view.  Sound blankets closely wrap the noise source to muffle the sound.  The choice of noise attenuation material will depend on your specific application.  Below are some things to consider when choosing a solution.
Amount of space
Source of noise
Budget for noise control
Some applications can use either solution.  We can help you with pricing and details for both potential options and help you choose the best and most cost effective noise control system for your needs.