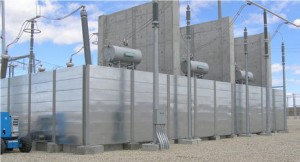 eNoise Control is a provider of all-weather sound blocking panels.  They can be used indoors or outdoors for any application where the highest level of sound blocking is needed.  Available in standard panel sizes or custom fit to your application. We can fabricate the panels to suit your specific needs.
eNoise Control Sound Barrier Panels are fabricated with an outer solid shell of 16/18 gauge and inner perforated shell of 22 gauge. Panels are stiffened with 18 gauge internal channels and edge rails. The acoustic grade fill is 2.5 to 6 pcf long strand fiberglass or mineral wool depending on the application. Both fills are inert, mildew resistant, vermin proof, and incombustible and are suitable for wet/dry and freeze/thaw cycling. Mating panels are attached by inherent tongue and groove panel joints. Typical panel joints are horizontal, however, vertical panel joints are used depending on the project requirements and aesthetics desired.
Advantages of eNoise Control Sound Blocking Panels
Suitable for outdoor mechanical equipment barriers allowing easy field cutting and sealing for electrical, ducts, and piping.

Panels are shipped in modular form for freight cost savings.

Self-draining, wicking moisture, durable, easy to install, remove, and reuse.
Panels available in galvanized G90, aluminum, and stainless 304 or 316. Structural steel components available in various finishes from prime painted, hot dipped galvanized, or painted.