Rooftop Hospital Chiller Noise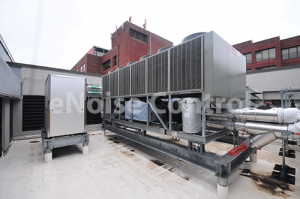 During an expansion, a hospital installed mechanical equipment on the roof in a walled alcove. The roof area was covered and sealed with membrane roofing. A Trane chiller installed on a dunnage steel frame supported from the roof structure.  The city determined that the sound emanating from the installed chiller would be too loud, violating the local noise ordinance.  The project developer contacted eNoise Control to work with an acoustical consultant and Trane to formulate a solution for the rooftop hospital chiller noise.
Because of the high decibel reduction required, the client needed a full four-sided chiller enclosure and a roof.  Space was very tight and the structural support for the enclosure could not penetrate the roof.  The developer contracted a structural engineer to design a frame to attach directly to the dunnage steel frame.  Because the chiller needs air to operate, the two long walls of the enclosure included acoustical louvers.  The hospital was concerned about maintenance access and removal of the louvers to work on the unit.  eNoise Control designed the louver attachment as a hinged door with an internal frame and latches to allow for maintenance access.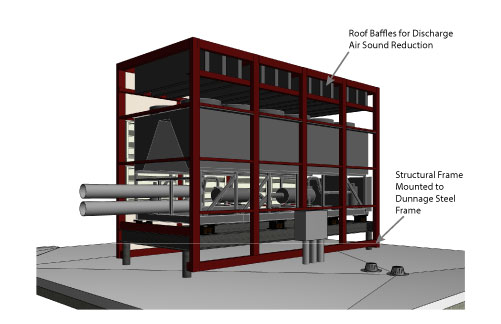 For the roof, 24″ high perforated acoustical panels louvered like slats running the length of the enclosure provided silenced discharge airflow for the chiller top exhaust fans.  The size and spacing of the side and roof louvers allowed correct airflow for chiller operation and at a pressure loss within design parameters.  Modular absorptive sound barrier wall panels with 4″ thickness filled in the remainder of the frame.  As a result, the hospital and town council approved of the design and results.
Call eNoise Control to talk to one of our noise control experts.  We have the expertise and experience to help you with your rooftop noise control project.