Restaurant and Bar Noise Control
Do you have a bar or restaurant that is too loud inside?  Is the live music or DJ starting to annoy your neighbor or community?  Installing sound panels in your restaurant is a fast and effective way of controlling sound.
eNoise Control is a top provider of acoustic consultation services and soundproofing products.  We will help you choose the right solution for your restaurant.
Interior Noise
If your restaurant or bar is too noisy inside, customers will have difficulty having conversations.  This could mean that they are less likely to return in the future.  eNoise Control offers acoustic solutions to help reduce the reverberation in your space.  The quickest and least expensive solution is to apply acoustic foam to the walls and/or ceiling of your business.  Available in a dark charcoal gray, they blend well into a dark ceiling so they will not disturb your decor.  The example image to the right shows a familiar eggcrate, or convoluted facing.  Acoustic foam is also available in flat and pyramid styles.
We will help you determine how much acoustic foam you need in your space to effectively control the noise.  Call or e-mail us with photos and we will help you with the thickness, style, and quantity of foam.
Exterior Noise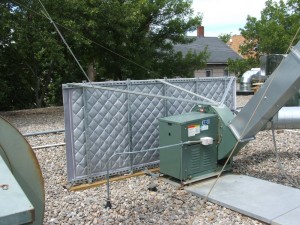 Sometimes the noise problem is outside.  This can be in the form of live music or DJ or noisy HVAC or other mechanical equipment.  We offer an excellent exterior grade sound curtain for outdoor noise.  This can be used to help screen in your area so your neighbors do not have to listen to your late night outdoor entertainment.  These quilted blankets can also be used to box in noisy mechanical equipment if that is the source of the unwanted noise.  They can also be attached to simple frame to form a screen.
eNoise Control has years of experience helping clients with outdoor noise.  Our outdoor rated products will withstand the elements to provide you with a long term noise solution.
Make eNoise Control your source for restaurant and bar noise control.  We can help you determine the most effective solution for your indoor or outdoor application.