Railroad and Hump Yard Sound Barrier Wall
Trains have been used for transporting people and products for over one hundred years.  Railroads are a vital and important part of the transportation infrastructure.  On occasion, residential subdivisions are developed near railways or hump yard operations and typically this results in homeowner complaints about the noise.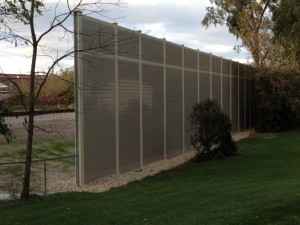 Hump yards, also called classification or marshalling yards, are found at some freight train stations and are used to separate railroad cars on to one of several tracks.  During this procedure, brakes are used to slow down the moving cars.  The brakes generate a very loud, high frequency squeal that can damage operator hearing over time and upset nearby residents.
The solution is construction an absorptive sound barrier wall to block the noise from propagating.  eNoise Control will size and design a sound barrier wall system including stamped and sealed engineered shop drawings, galvanized steel posts with base plates, anchor bolts, and acoustic panels.  Call eNoise Control for more information and pricing.