PVF Sanitary Acoustic Panels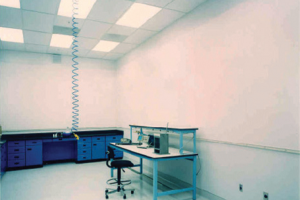 eNoise Control's PVF sanitary acoustic panels are the only full-encapsulated panels on the market.  The PVF Panels have a high density fiberglass core that is extremely sound absorptive, dimensionally stable, and water resistant.  They can be easily installed as a lay-in ceiling tile or wall-mounted panel.
PVF Panels are ideally suited for hospitals, clean rooms, commercial and institutional kitchens, and food processing and pharmaceutical facilities.
Specifications
Weight: 0.75#-1.40# per square foot
Density: 6-7#
Shape: Square/Rectangular
Fire Rating: E-84 (5/0/15)
Standard Sizes: 2′ x 2′, 2′ x 4′, 1′ x 4′
Custom Sizes: Available Upon Request
Thickness: 1″, 1.5″, 2″
Finish: PFV (polyvinyl flouride)
Chemical Resistance: No effect after one year of exposure to acids, bases, or solvents at room temperature
Ceiling Suspension: Clean Room Grid
Wall Mounting: "J"/"T" wall mounting channel

Noise Reduction Coefficient:
1″ thick ceiling mount (0.85)
1″ thick wall mount (0.70)
2″ thick ceiling mount (0.95)
2″ thick wall mount (0.85)