Plastic Grinder Cyclone Noise Reduction
eNoise Control received a call from a client with a plastic grinder cyclone noise problem. They had recently had an inspection by an OSHA representative and found that they did not meet OSHA requirements. Their noise source was above the threshold for time weighted average noise levels. The client was looking for engineering controls to treat the noisy machinery. The offending equipment was a plastic grinder, material handling fan, and a cyclone. The client's business was recycling automobile bumpers. The grinder shredded the plastic as the fan pulled the granules from the grinder. They were then piped into a cyclone that delivered the plastic to a Gaylord box for reuse. The cyclone has a pipe coming from the fan and the air and plastic enters the cyclone. The heavier plastic falls into the box and the transport air is discharged out of the top of the unit. The open discharge of the cyclone generated in excess of 100 dBA. Additionally, the sound was reflecting off of a metal deck roof.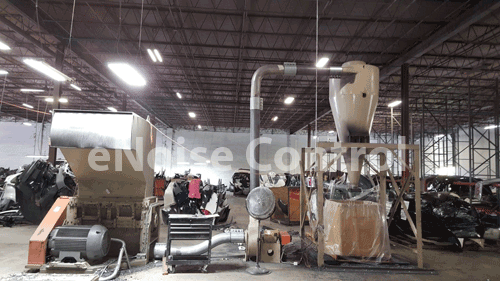 Our solution to the problem was an acoustical silencer. eNoise Control designed the silencer to mount to the discharge of the cyclone to reduce the noise. After researching the fan, we determined the airflow in cubic feet per minute (cfm) and estimated the available pressure loss to the system. We also sized the silencer for optimum noise reduction. The discharge size was 16″ and we designed the silencer to be 60″ long and ducted from the cyclone discharge to the silencer. The insertion loss of the new acoustical silencer was estimated at 46 dB at 500 Hz.
The acoustical silencer resulted in a large decrease of the noise. Call eNoise Control to discuss your industrial sound reduction problems. Our representatives have extensive experience developing noise control solutions to comply with OSHA standards.