Outdoor Dust Collector Fan Noise Reduction
A client recently contacted eNoise Control after installing a new outdoor dust collection system.  A neighbor that was approximately 1,000 feet away was complaining about the noise.  Outdoor dust collectors can have several configurations.  All are ducted from the inside of the plant to a cyclone or bag house.  This is where the heavier materials in the airflow drop to a collection bin and the finer particles are run through a filter.  A fan in the system provides the airflow or suction to draw the air out of the plant.  The fan mounts to the top of the cyclone or ducted and mounted next to the unit.  The fan will have an open exhaust to expel the spent air.  The primary noise sources in these systems is usually this fan.  The client was looking for a solution to reduce the noise from the dust collector.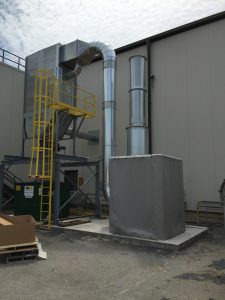 When standing close to the unit, the fan motor, casing, and air turbulence will seem like the main noise sources.  This can be deceptive when an exhaust stack is present.  From farther away, the sound of the fan dissipates and you just hear the low frequency drone of the fan exhaust.  Our recommendation was to enclose the fan with an outdoor sound curtain engineered and fabricated for continuous outdoor use.
The outdoor sound curtain panels easily attach to a support frame around the fan.  The panels remove easily for equipment maintenance.  Because the curtains provide an excellent barrier for the noise of the machinery, this solution will reduce the near field fan noise.  To address the open exhaust, we recommend an acoustical duct silencer with an inside diameter to match the exhaust stack and an outside diameter fo 28 inches with a length of 60″.  The silencer also contains an absorptive core baffle or "bullet."  This aids in the reduction of the mid frequencies.
eNoise Control can help you with your outdoor dust collector noise.  We can help you with a solution to your problem with phone conversations and pictures.  We are also able to come on site if your application is more complicated.