Machine Shop Sound Curtain Wall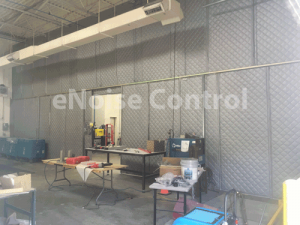 A large machine shop contacted eNoise Control about a noise issue. They had recently purchased a new machining center. The employees were lodging complaints about the noise from the new equipment. Management wanted to quiet the noise.
eNoise Control provided a sound curtain wall with two tiers. The sound curtain wall utilized our Model UNC-25 Sound Curtain panels. The sound curtain material is nominally 2″ thick. It features a 2 pound per square foot mass loaded vinyl sound barrier sandwiched between two layers of sound absorbing fiberglass. Sound curtains are finished and faced with a diamond stitched vinyl facing.
The bottom tier of the curtain wall has ceiling suspended double roller track. This installation method allows the panels to slide left and right and behind one another for maintenance and accessibility. The bottom tier is 10′ high to allow a pallet truck to pass through. The top tier of the panels are fixed and non-movable. They overlap the bottom tier by 12″ to provide a good acoustic seal.
The sound curtain wall also included a door panel for access. The door section was constructed of two sound curtain panels without velcro seals. The 6″ overlap on both ends with adjacent panels. The two sound barrier clear vinyl windows allow for visibility and the nylon grab handles make it easy to open the door when needed.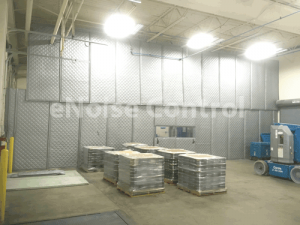 Prior to the sound barrier wall, the client said that you could not carry on a conversation in the area. After the installation of the new sound curtain wall, it was like a church on the other side of the sound curtain barrier.
Contact eNoise Control for all of your sound reduction needs. Our experienced staff will help you design a barrier or enclosure for any industrial noise problem.