Machine Shop Noise Control Sound Curtains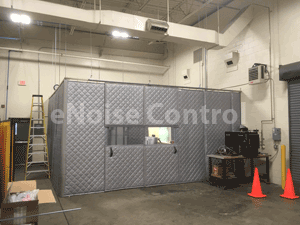 eNoise Control was contacted by a large machine shop that was experiencing a safety issue with a machining center. While the plant was not quiet, this particular operation was extremely noisy. The shop wanted to reduce the noise from this area to ensure compliance with OSHA regulations.
eNoise Control recommended a sound curtain enclosure utilizing UNC-25 sound curtain panels. The panels feature grommets across the top for fast and easy suspension. The vertical sides have hook and loop Velcro fasteners that allow the panels to easily join together to form a wall.
The enclosure for this application had two sides and measured 20′ x 20′ x 10′ high.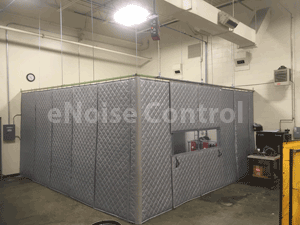 Single track rails were used on both sides to hang the curtain panels. This enclosure featured a door section for machinery access. The door sections hang on double roller track that allow the panels to slide in front of the enclosure walls. This configuration allows for full opening of two 48″ wide panels. Nylon grab handles on the door panels make it easy to open. In addition to the door, both door panels had a clear vinyl viewing window. This provided an easy way for employees to see into the enclosure without opening it.
The client was very happy with the noise reduction achieved with this sound curtain enclosure. We can design custom enclosures to accommodate any application. Sound curtains offer many options in noise reduction. The hardware and track options allow for walls and enclosures of any size and shape. Call eNoise Control for assistance with your industrial noise control needs.