Acoustical Treatment for Industrial Facilities
Industrial plant noise has been attributed to lower productivity, communication difficulty, fatigued employees, and lower work attendance. A work environment with lower noise levels below 85 dba that OSHA requires, or you must institute engineering controls.
The application of sound treatments, help to engineer a quieter facility by using enclosures on the noisiest equipment, sound curtain walls to block line of site to employees, or baffles and sound absorbing panels to reduce the reverberant noise in the facility.
Acoustical treatments for lowering the plant noise levels worth the expense for higher productivity, lower insurance costs, and a clean safety record.
By utilizing eNoise Control's experience in solving noise control problems, we can recommend where to start, which equipment to enclose and which aisle-way for the sound curtain wall to receive and how many baffles or acoustical wall panels to install to get the biggest noise reduction for the dollar spent. With over 20 years of experience of solving industrial noise issues we have seen just about every piece of equipment run and what the best way to reduce the noise.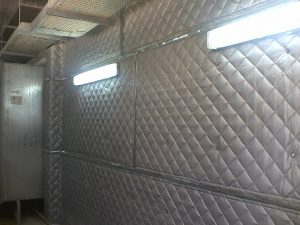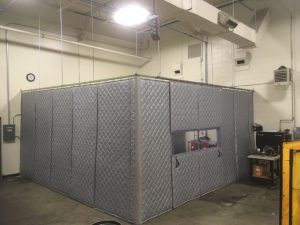 At your request, we can provide acoustical consulting with a sound study and report identifying the problem areas and several options for reducing the noise levels in the area.
Please call eNoise Control to discuss your in-plant industrial noise reduction project.