Hydraulic Power Unit Sound Control Panels
A hydraulic power unit consists of motors, a reservoir, and hydraulic pumps. Because pumps and motors are both noisy components, sound control is often an issue with these units.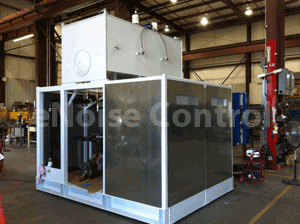 For this application, eNoise Control recommends modular acoustic steel panels. Our sound panels will help contain the noisy motor and the whine of the hydraulic pump. These panels can bolt directly to the tube steel frame of your power unit (as pictured). Easy installation means that you will also be able to access your equipment for maintenance.
eNoise Control panels have integrated silenced intake vents to allow air to circulate inside the machine sound enclosure. We can also supply an exhaust fan to pull heat out of the enclosure while still containing the noise. The sound deadening steel panels are easily removable for easy access to the components of your HPU. This allows you to keep your equipment quiet while still maintaining and servicing your unit.
Our experienced staff will help you determine the appropriate size and quantity of panels for your unit. We also offer a variety of steel finish options and paint finishes. Our panels are appropriate for indoor or outdoor use. The sleek finish will keep your facility looking clean while minimizing the noise.
Contact eNoise Control for your specific needs on controlling noise from your hydraulic power unit.