Drill Rig Noise Control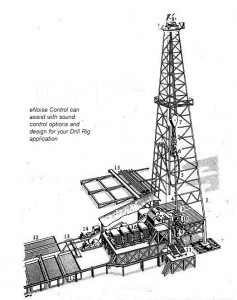 All over the country and internationally, drill rigs using rotary drilling are being located closer and closer to neighboring residential and commercial properties.  Noise from drill rigs is increasingly becoming more of a concern.  The power supply, diesel engines, motor noise, and mechanical noise produced by drill rigs causes neighbor complaints.
eNoise Control offers sound barrier walls, engine mufflers, sound enclosures, outdoor rated sound blankets, and design assistance for your rotary drilling application.  We offer acoustical sound measurements and on-site assistance with your noise evaluation, noise mapping, and acoustical design.  We can also supply sound abatement material that can be mounted to your steel structure to help mitigate the noise generated by the drill rig.  Oil and well drilling are becoming more prevalent across the country.  This noisy machinery is installed close to commercial occupied neighborhoods and noise mitigation is requested and required for meeting noise codes and noise ordinances.
Please call or e-mail today for assistance with your application.