Deburring Vibratory Bowl Soundproofing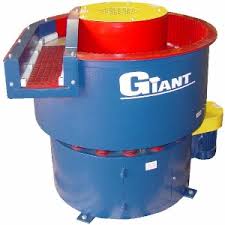 Deburring bowls are used primarily in the die cast and molding industry. They remove the flash, or sharp edges, left over from the fabrication process. The sharp edges are also called burrs. The bowls are typically filled with stone media and the entire bowl vibrates. This process and equipment make a lot of noise. Any employees at a work station near this equipment are subject to dangerous levels of noise exposure.
The Deburring Process
The first step is to place the deburring media, or specialized stones, into the unit. The next step is to load the die cast parts. The entire bowl vibrates to round and deburr the edges of the parts.
eNoise Control designed a round sound curtain enclosure and frame to enclose the unit on all sides. The enclosure also featured a removable roof. Each individual UNC-13-2″ sound curtain panel is 54″ wide or a width to balance the total dimension of the wall. The five brass grommets along the top edges provide easy suspension. The hook and loop velcro on the vertical edges allows the panels to connect and overlap to form the total length of each wall. The panels have grey reinforced vinyl facing with diamond stitching. Inside is a 2″ thick sound absorber bonded to a 1 pound per square foot reinforced noise barrier.
The enclosure frame was a 1-1/4″ x 1-1/4″ square tube steel "slip fit" frame. Four locking casters on the bottom allows for mobility if necessary. The sound curtain panels attach directly to the frame.
The client was happy with how the curtain enclosure performed. Their deburring vibratory bowl became much quieter with the enclosure. Additionally, the velcro allowed for easy access to the equipment when necessary.
Please call eNoise Control for all your sound reduction needs. We specialize in designing sound control solutions for industrial facilities.