Data Center Genset Noise Control
A data center located in the downtown area of a large metropolitan city had a lot full of noisy stand-by generators.  They planned to add five additional gensets located 200 feet from a condominium complex.  A lawyer living in this community alerted the client that they needed to meet the stringent city noise code with the installation of the gensets.  eNoise Control was able to help the client with a data center genset noise control solution.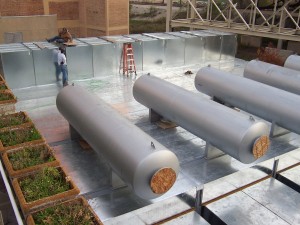 eNoise Control came on site and recorded ambient sound level readings.  With this data, we designed an outdoor sound enclosure system with silenced air intakes and exhaust to fit in the allotted foot print that also met the city's noise ordinance.