CrossFit Gym Noise Reduction
Across the country, CrossFit training is growing in popularity.  CrossFit gyms are popping up in every strip mall and mixed use retail space.  Many of these gyms have foregone the application of sound reduction methods and materials in the establishment of their facility and have then found themselves with very angry neighbors.  This is especially a problem in densely populated cities such as New York, Chicago, Seattle, and San Diego.
The typical scenario is a CrossFit box gym in a strip mall with condominiums or apartments across the street.  The gym often has other businesses nearby, such as a professional services firm or retail boutique.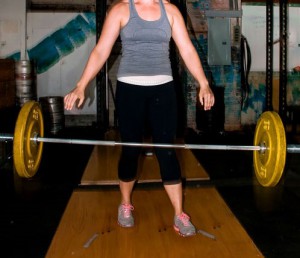 The gym plays loud music for its clients and there is the repetitive thud of heavy weights – often over 100 pounds – dropping to the floor.  The gym activities often begin at 6 am or earlier and persist until as late as 9 pm.  These two noise sources can create sound that carries through the walls to the businesses next door and across the street to the residents in nearby buildings.  How does a gym owner or property manager resolve this scenario?
During construction planning, developers should consider the use of sound rated walls and vibration isolating floating floors.  This is especially important if the gym is on the second floor.  A vibration isolating Jack Up type floating floor is designed to endure repeated heavy impacts.
Wall assembly for a sound wall consists of a double stud or staggered stud wall filled with batt insulation and two or more layers of 5/8″ gypsum on both sides.  No gypsum board between the two wall assemblies.  You can get an STC rating of up to 65 or more.  Details provided below.  Isolation wall clips can also provide high STC wall assemblies.
Call eNoise Control to discuss your CrossFit gym noise problem.
Partition type
Assembly description
STC Rating
 Test Report
2 layers on each side shown

2-1/2″ STUD 25(15mil) @ 24″ o.c.
3-1/2″ R-13* unfaced insulation
1 layer 5/8″ Type X GWB on each side

58
TL09-593

2-1/2″ STUD 25(15mil) @ 24″ o.c.
3-1/2″ R-13* unfaced insulation
1 layer 5/8″ Type X GWB on one side
2 layers 5/8″ Type X GWB on the other side

63
TL09-594

2-1/2″ STUD 25(15mil) @ 24″ o.c.
3-1/2″ R-13* unfaced insulation
2 layers 5/8″ Type X GWB on each side

65
TL09-595