Construction Site Noise Control
Living or working near a construction site can be extremely unpleasant.  Even the workers at the construction site may find the noise to be a nuisance.  Many residents and workers in the proximity of the jobsite make requests to keep the noise as low as possible.  Causes of construction noise include heavy machinery and building methods and processes, often with multiple noise sources occurring simultaneously.  Construction sites near schools, office buildings, hospitals, and residential areas often interfere with property lines.  eNoise Control has extensive experience helping customers with outdoor construction site noise control, even if just needing a temporary construction barrier fence.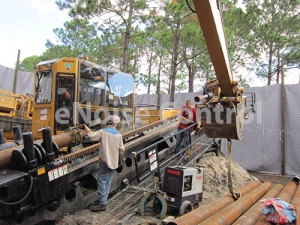 Common construction equipment that cause noise:
Drills
Jack Hammers
Blowers
Compressors
Pile Drivers
Most heavy machinery causes loud noise when it is turned on, even if it is not in use.
Call eNoise Control for help with your construction site noise control project.  We will help you navigate the local noise ordinances and determine the best noise control solution for you.  Many jurisdictions have maximum decibel levels for noise from construction sites that are close to residential and commercial buildings.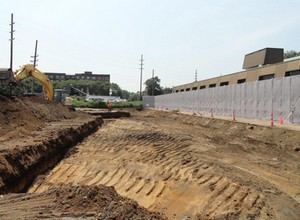 Outdoor sound curtains are our most popular product for construction site noise control.  The exterior grade quilted facing will ensure that the curtains withstand UV rays, extreme temperatures, and inclement weather.  Sound Curtains are easy to install on any existing chainlink fence or other support structure.  In addition to excellent noise control, the curtains also provide a good visual barrier for your site.
These exterior noise blankets are an effective solution for your construction project.  We can help you keep your site in compliance with local noise ordinances.  Expedited manufacturing options are available to help keep your project on schedule.
Call eNoise Control today to discuss your construction site noise control needs.