Mechanical Room Liquid Chiller Sound Enclosure
Situation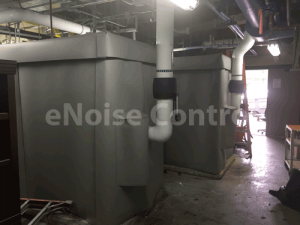 A representative of a major HVAC equipment manufacturer contacted eNoise Control to find a solution for noisy chillers. The manufacturer needed a solution for chiller equipment that had been supplied to a client. The client installed the new liquid chillers in a mechanical room. Unfortunately, after installing the new equipment, they discovered that the chillers made too much noise for the employees that worked at the facility.
Solution
eNoise Control suggested a four-sided sound enclosure with a roof. The enclosure featured industrial grade UNC-13 Acoustic Sound Curtains. The curtains have a sound barrier backing and a quilted front. The sound curtains were mounted on rail tracks with support posts.  Passive air silenced ventilation ensured that the equipment inside the enclosure would not overheat. This sound curtain enclosure was 58″ x 148″ x 85″ high.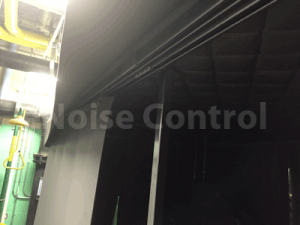 Enclosure Features:
Two side vents
One roof vent
Roof valence
Weight: 1.5 lbs/square foot
Brass grommets on the top edges
Bound edges
Mating Velcro sewn on each vertical edge
STC 29 rated
NRC 0.75 rated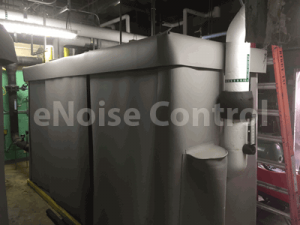 The support system consisted of floor columns and suspended galvanized double rail tracks on all sides. Hooks and trolleys allow the sound curtains to slide left and right for easy access and maintenance. The hardware package also includes splice connectors and hanging brackets.
The client installed the solution and was pleased with the functionality and performance. Sound curtain enclosures provide flexibility for many size and shape configurations. Additionally, the track options provide a variety of options for enclosure access.
Call eNoise Control to design your custom noise enclosure. We offer several sound curtain materials to fit your noise reduction needs and budget. Our experienced sales consultants will help you determine the best solution for the space you have available to quiet your work environment.