Ceiling Suspended Plant Barrier Wall
Situation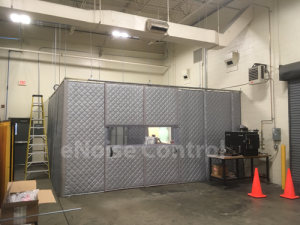 A client contacted eNoise Control after receiving worker complaints from noisy equipment. The process equipment was installed in the corner of the factory floor. They had a list of requirements for the noise control solution.
Allow movement of carts and pallet moving vehicles to enter the area to supply parts for the equipment.
No support columns that could be hit and damaged.
Large door to bring pallets in and out.
No threshold to impede movement in and out of the enclosure.
Solution
eNoise Control proposed a two-sided ceiling suspended plant barrier wall made with sound curtains. The individual panels were 48″ wide and attached together with Velcro. Each panel had 5 brass grommets along the top edge for suspension. The curtains attached to a roller track to allow for movement of panels. Wall anchors and ceiling rods supported the roller track. The client attached slotted channel with beam clamps to open bar joists and dropped down threaded rod to fasten to the roller track fittings. This solution allowed the floor to be clear of obstructions.
The sound curtain panels used for the wall are eNoise Control Model UNC-25. This material features a gray vinyl facing with diamond stitching. The panels function as both an noise absorber and sound barrier.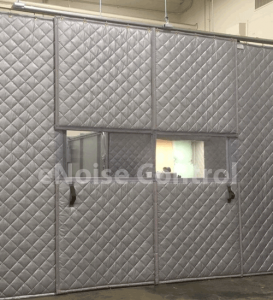 To create a door to the enclosure, we proposed an 8′ wide "door" consisting of two panels with clear vinyl viewing windows. The panels rode on a separate roller track to allow full opening of the 8′ wide span. The panels had a 6″ overlap for ease of opening and a good acoustical seal. Also included were nylon grab handles. The full panel width noise barrier windows were a clear 1 pound per square foot vinyl. These windows enhance safety by providing a view of the workers without reducing effectiveness of the sound barrier.
Contact eNoise Control to discuss your in-plant noise reduction application. We can design a custom noise control solution to provide excellent sound control while meeting your needs and budget.