A South Florida beachfront bar and restaurant would have music and band playing in their establishment on a regular basis and were receiving complaints from local businesses and homeowners about the noise. The property owner contacted eNoise Control and we provided Outdoor Sound Curtains Model UNC-XT-1 for the open areas of the club walls.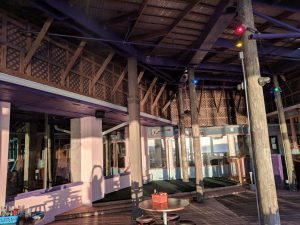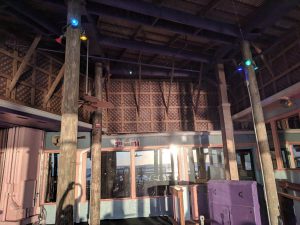 Model UNC-XT-1 Exterior Sound Blankets are a 1 lb. PSF reinforced loaded vinyl noise barrier (with a 1" thick Vinyl Coated Polyester faced quilted fiberglass absorber on one side and all edges bound with gore tenera thread.  Panel fabricated with grommets across the top and bottom of each panel and mating external grade velcro on the vertical edges. STC 29 NRC 0.65.
The client installed the blankets with wood battens and screws through the provided grommets for a permanent installation.  They ordered the color Tan for the sound blankets to match the restaurant décor.  The client and the neighbors are pleased with the results of the installation.
Outdoor sound curtains or blankets are a simple and effective way to contain noise in any outdoor or wet environment.  Please call eNoise Control to talk about your noise application.