Bowl Feeder Sound Blanket Barrier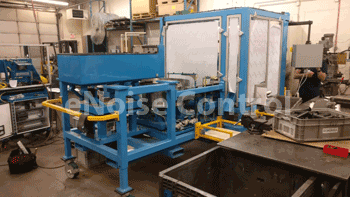 A machine builder contacted eNoise Control needing to meet a specification of 80 dBA or below for delivery of a mobile bowl feeder assembly. The client was interested in mounting sound blankets to the existing frame of the unit. We worked with their designers to fit the blankets and ensure proper access to the bowl feeder for maintenance.
Construction
The sound curtain system was manufactured as a four sided enclosure with an open top. The measurements of the enclosure were 57″ x 76″ x 96″ high. Individual panels for these enclosures measure 54″ wide or are dimensioned to balance the width of the total wall. Brass grommets along the top edges allow for easy suspension while hook and loop Velcro fasteners on the edges allow the panels to overlap to form a wall.
This enclosure featured our Model UNC-13-2″ blanket panels. This material features diamond stitching with a gray reinforced vinyl facing. The panels are a composite construction with a barrier sandwiched between two absorbent layers.
Installation
The grommets on the top edges of the panel provided easy installation onto the existing frame. A double track system allowed three of the four panels to slide in front of one another for equipment access. For this client, the track system mounted to the walls.
A field binding kit was supplied to assist the client with any cutouts. This allows sections of the material to be removed during installation for access or ventilation. Edge binding is easily stapled to the panels to maintain the professional appearance of the enclosure.
Call eNoise Control for help with your industrial noise control problem. We can help you select the best solution for your application, often without requiring a site visit.